Local News
Grief Support Group starting soon, offered by Home Hospice of Grayson County
Apr 4, 2021
Sherman, Texas -- Home Hospice of Grayson County is pleased to start again our in-person Support Groups!! Beginning April 6, "Finding Hope and Healing Your Heart" is an 8-week group covering different topics: How to mourn your loss; What steps do I take next; Who am I now; and Getting through firsts. Materials will be provided to participants.
We are pleased to offer this new session on Tuesday nights starting April 6 and continuing through May 25. We will meet Evenings from 5:30 p.m. to 7:00 p.m. The group will meet in the Home Hospice Office at 505 W. Center Street, Sherman, TX. You must register to attend as class is limited to 8-10 participants.
"After this past year, our level of loss due to the impact of COVID, has intensified our grief" said Nancy Jackson, Support Group Leader. "As we go through grief and mourning today, we are challenged with a lack of closure in our losses this past year. In our group, we will work on understanding our grief and coping with the many ways it impacts our lives. Please Come and join us as we listen, share and support each other."
To register for the support group, please contact Paula Youree at 903-868-9315. If you'd like information on individual counseling, please contact Nancy Jackson at 903-868-9315. Social distancing and proper protocols will be observed.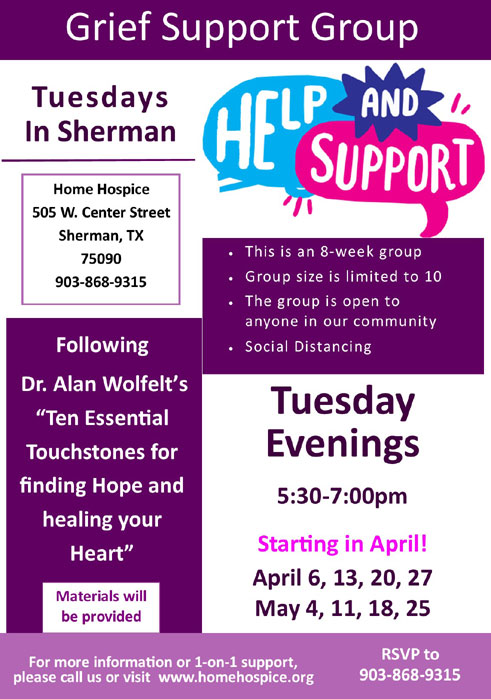 Home Hospice of Grayson County is a 501(c)(3) community-based non-profit hospice. Our mission is to help you have the best possible Quality of Life. To learn about other community outreach programs offered by Home Hospice, please visit www.homehospice.org or visit our Facebook page at www.facebook.com/homehospiceofgrayson.