Columnists
Easter is
Apr 5, 2021
Easter is when Christians celebrate the resurrection of Jesus Christ. According to the Bible Jesus Christ died on the cross on a day called Good Friday, he was then resurrected and came back to life on Easter Sunday. However to me that true meaning of Easter has been almost forgotten, at least in the eyes of many people. As we know Easter is much more than bunnies, Easter clothes, and Easter eggs.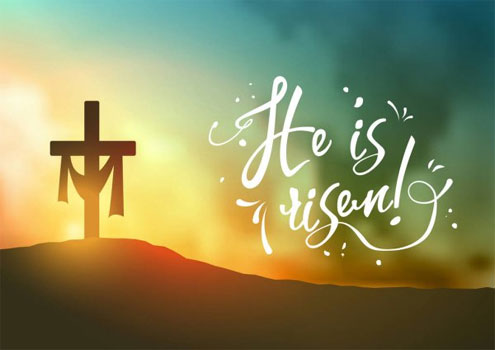 I used to write newspaper ads for my family's furniture store. I wrote ads a few times telling how I thought the true meaning of both Christmas and Easter had been lost and that people need to remember the true meaning of both holidays. Fortunately many people made some nice comments to me about those ads, there is much more to both very special holidays than just making sales.
I have heard many comments from people through the years wondering just how the actual date of Easter is determined every year. It is a little confusing but not so much once you know the exact formula. Each year Easter is celebrated on the first Sunday following the full moon that occurs on or not too long after the spring equinox, this year it is April 4 and next year it will be April 17.
Easter as early as March 22 is very rare, the last time that happened was 1818 and it won't happen again until 2285. The latest possible date Easter can be is April 25; in 1943 it fell on that date but that won't happen again until 2038 and then again in 2190. These dates are from the Gregorian calendar which the United States uses, some countries use the Julian calendar and in that case the dates will be different.
As children we are more innocent and mostly associate both Christmas and Easter with many things other than their true meanings. As we grow older, fortunately we learn the true meaning of both and think of them in that way.
It also seems to me many people may have forgotten the true meaning of Thanksgiving as well as holidays associated with the military. No matter what the holiday we should not forget the true meaning of a specific holiday, don't just think of it as just an excuse to take a day off from work as they are holidays for a reason. At Thanksgiving we need to give thanks to God for all our many blessings, on Memorial Day and Veteran's Day we need to pray for all the men and women of our nation's military. The members of our nation's military services, both past and present, have risked and continue to risk their lives every day to keep us all safe and we sure don't want to overlook them.
Happy Easter to everyone.
If you have any comments or questions my e-mail is deh63shs@yahoo.com.