Entertainment
What I did in World War II: chapter 6
Jul 13, 2021
After our extended stay in the Normandy hedgerows and with First Army through the Breakout and the Falaise Gap, our entry into Paris was an almost unbelievable experience. Everything was beautiful, adorned with flowers and happy people. It was as though no death, rubble, or bomb craters existed. All was orderly and nice.
One day, while enjoying the liberation of Paris with my battalion commanding officer we visited a store that exclusively sold Guerlain Shalimar Perfume. At my commander's suggestion I bought a small bottle and shipped it to my mother. I gave her the same gift each Christmas and birthday for the rest of her life, and each time I purchased it my memories of Paris would be revived. Paris had a special effect on invading soldiers.
Reluctantly, the 91st MGTB departed Paris, and with the First Army we headed for Belgium. There was a general feeling among the troops that the road was clear and time was of the essence. Everywhere there was evidence of German panic and the failure of their supply system.
I left my bicycle in England when we left for Normandy and now, not far from Paris, beside the road I "liberated" a small, one-cylinder motorcycle that the fleeing enemy had abandoned. The only thing wrong with it was its empty gas tank. A few days later another larger German motorcycle was "liberated," also abandoned for lack of gas. Shortly thereafter I picked up yet a finer motorcycle, again immobilized for lack of gas.
The advance wasn't as easy as it sounds. Although it wasn't as bad as it had been during the Breakout and Falaise Gap, we were treating wounded soldiers and we were going through towns that were piles of rubble.
We all sensed the ultimate, inevitable and slowly evolving end. Our advance from the beaches of France had been slower than expected, and the port of Cherbourg had not been as usable as we had hoped. For all practical purposes, our supplies were coming across the beaches of France where only inadequate and limited loading equipment was available.
First Army halted (D+120), primarily for the lack of supplies, on a line just beyond the town of Aachen, near the German border with Belgium and fifty miles from Germany's Rhine River. As had occurred in Normandy, we now waited for another buildup of supplies.
In this war two vehicles were the primary beasts of burden: one was a truck (the army's 6 X 6) and the other was an airplane, the DC3 (called the C47 by the air force). The medical corps had established its principal general hospital at Paris. As we advanced beyond Paris the most seriously injured soldiers, after being stabilized in a field hospital near the front, were transported by ambulance to the Paris hospital. As the front's distance from Paris increased, ambulance transportation became too slow.
At the same time replacements and urgently needed supplies would be flown in DC3s to the front. Since these planes were often empty on their return, medical corps used them to transport wounded soldiers to the Paris hospital. The 91st MGTB was assigned the duty of transporting the wounded soldiers from the field hospital to the forward airfield and supervising loading them onto the DC3s.
The DC3 was the air force's workhorse of World War II. It was not pressurized (it generally flew low, below 10,000 feet) with a large cabin that was easily adapted for many uses. Its two powerful engines could haul airborne troops and pull a glider for airborne landings. It could land and take off from short, undeveloped landing strips. If a military unit had to have badly needed replacements, a particular type of ammunition, medical supplies or a vitally-needed mechanical part, the DC3 could get it there. As we transported our patients, I enjoyed visiting with their pilots, whom I admired. They were some of our very best, often flying unprotected within rifle range of the enemy.
During this second buildup of supplies, troops and equipment, I jumped at the opportunity to enroll in the University of Paris. This famous school had been taken over by the army for the purpose of educating one officer in each unit in the subject of Bomb Reconnaissance. Throughout France, wherever military targets of battlefields existed, while most bombs dropped by airplanes, artillery shells and hand grenades had detonated, some had not.
Those that had not exploded were either lying on or buried in the ground and were very dangerous. Some of our soldiers had been killed while attempting to liberate or dispose of those objects. Some soldiers with too much time on their hands, made ashtrays out of the base of artillery shells or used live rifle ammunitions to make the base and tip of a swagger stick. The purpose of the course I took was to educate officers in the mechanics of these explosive devices so that the officer could determine which were dangerous, isolate the area where the device was located and notify special units who would either defuse or explode the device. To me this course was a delightful, paid three-week vacation in Paris.
With orders in hand I boarded a DC3 at a forward landing strip, landed at an air force base in Paris and was billeted in a University of Paris dormitory which was located in a very interesting portion of the city. A soldier arriving from the field would consider the University of Paris dormitory to be interesting and luxurious quarters.
A man would walk the halls, ringing a bell to awaken students in the morning to attend classes and for meals. I believe this was an ancient custom that this school had followed. The food was prepared and served by the Army. When visiting Paris I always sought an Army mess. The French people did not have enough food. After class and on weekends, I was free to visit and enjoy the undamaged city. Upon graduation, a DC3 delivered me to the landing strip near my battalion where I resumed my usual duty.
During this buildup our casualty load was very light and we had too much time on our hands. Using the DC3 shuttle to Paris, I could have a three-day pass any time I asked for it. The catch was that the army required proof of a hotel reservation for the duration of the pass before it would be granted. Every hotel in Paris was booked solid for the duration of the war. The army had reserved blocks of rooms, mostly for men on leave from rifle companies, which were not available to me.
Every Army, Navy, and Air Force headquarters of consequence as well as the Allied government offices had succumbed to the lure of the city. The lure was so great that I began to wonder if it would become a major impediment to our war effort. While discussing the availability of hotel rooms in Paris with the pilots of the DC3 shuttle, I learned of a hotel the pilots used while on leave.
It was a small hotel, about four stories high, well located on one of Paris' attractive circles, which for some reason the Allied army had not commandeered. Air Force pilots exclusively apparently used it. With the help of my friends, the DC3 pilots, I was able to get a hotel reservation, which allowed me to procure a pass.
Armed with two cartons of Camels (cigarettes were abundantly available to soldiers in the field but almost non-existent in Paris. where an expensive black market existed), which I gave to the hotel owner or manager, I checked into his hotel. Before the Battle of the Bulge, I would enjoy using this hotel more than once.
In Paris I enjoyed the company of my friend, the very proper English lady whom I first met on the North Atlantic convoy in route to England. She was familiar with the city and as had occurred in London, she gave me a tour of this beautiful city which few soldiers would see.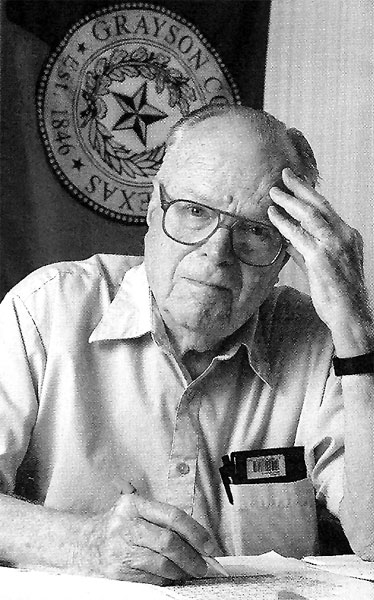 Neilson Rogers practiced law in Sherman for almost 60 years, from 1938 until 2002, except for the five years he was in the U.S. Army during World War II. In 2007 he was recognized by the Grayson County Bar Assn. for seven decades of service to the legal and judicial communities. In retirement he wrote this memoir, which will be serialized in the North Texas e-News. Before his death, Mr. Rogers asked Dr. Jerry Lincecum to edit the memoir and gave him literary power of attorney to make decisions about publishing his writings.