Entertainment
'Sam Rayburn History: Rayburn and His District'
Jul 13, 2021
Texas Historical Commissionís Sam Rayburn House State Historic Site and the Dolph Briscoe Center for American Historyís Sam Rayburn Museum have teamed up for an ongoing exploration into the life and career of one of the most influential Americans in the 20th Century.
Our quarterly webinar series will delve into specific facets of Sam Rayburnís personal life and political career, with topics ranging from Mr. Samís family to historic pieces of legislation he was instrumental in passing.
You are invited to join us for our inaugural webinar in this series as we explore Mr. Samís deep rooted ties to his congressional district and the projects he was able to secure for his people in: Sam Rayburn History: Rayburn and His District, on July 22nd at 2 pm. Registration for the webinar is now open at https://bit.ly/3ciFw1k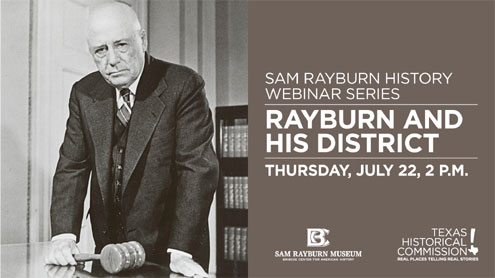 The Sam Rayburn House State Historic Site tells the real story of Sam Rayburn, one of the most powerful and influential politicians of the 20th century, in his authentic 1916 home. Preserved as a period time capsule, the two-story home contains all original Rayburn furnishings and housewares. The Sam Rayburn House State Historic Site is one of 32 historic attractions operated by the Texas Historical Commission.
For more information, visit www.VisitSamRayburnHouse.com