Lifestyles
Addison Oktoberfest hosts the country's best Bavarian blast, Sept. 16-19
Sep 19, 2021
Enjoy Oktoberfest at one of the largest,
most authentic celebrations in the U.S.
Addison, Texas – Addison Oktoberfest has been recognized as one of the most authentic Oktoberfest celebrations outside of Munich for over three decades. This year, there will be no celebration in Munich because of the pandemic. So, when more than 50,000 fans come together in Addison Circle Park from Sept. 16-19 to share a love of polka, German food and, of course, the same Paulaner Bier that is normally served at Bavaria's favorite festival, it will be the best Oktoberfest experience anyone can have in 2021.

Dozens of polka bands and other traditional entertainers from around the country perform with continuous entertainment on multiple stages, including one at the Partyhalle, a 30,000-square-foot open-air tent with seating for 1,500. Oktoberfest guests, who visit Addison from all over the Southwest and beyond, will enjoy fun contests such as dachshund races, bier barrel rolling, a German Idol yodeling contest, and more. The event offers fun for all ages, with special activities for kids, and unique shopping opportunities in the Marktplatz. Don't forget your dirndl and lederhosen – dressing for the occasion is enthusiastically encouraged.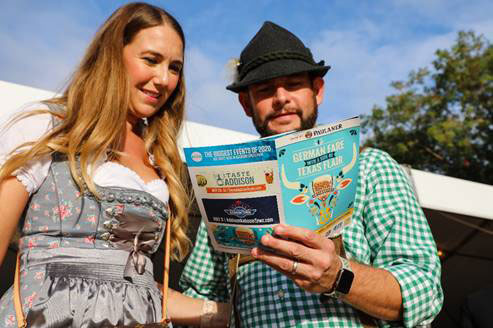 Make an Oktoberfest weekend of it: Book an Addison Oktoberfest Hotel Package, which includes lodging, two event admission tickets, two souvenir pins, two commemorative steins and two Paulaner biers – but book early, packages are limited.
The Town of Addison will be taking enhanced measures to promote a safe gathering in accordance with current guidelines and recommendations. High-touch surfaces will be disinfected regularly, hand sanitizer stations will be available throughout the grounds, activities have been modified to reduce physical contact, and face coverings are strongly recommended for attendees who have not been vaccinated for COVID-19. New for 2021, food vendors will offer mobile ordering to promote social distancing and reduce waiting in lines.
While often questioned about hosting a festival called Oktoberfest during the month of September, Addison times its festival to open the same weekend as the Munich celebration traditionally does. It's a part of the town's efforts to make Addison Oktoberfest the most authentic Oktoberfest celebration in North America.
EVENT SPECIFICS:
What: Addison Oktoberfest
Named one of the country's most authentic Oktoberfest celebrations by Forbes and USA Today, Addison Oktoberfest features four days of family-oriented entertainment. German entertainers in authentic costumes perform traditional Bavarian folk dances, schuhplatten, oompah music, sing-a-longs, yodels and more. A special "Oktoberfest" Paulaner Bier is served along with several types of German sausage, sauerkraut, strudel, giant pretzels and more. There are interactive games, dachshund races and children's entertainment.
When: Sept. 16-19, 2021
Thursday, Sept. 16, 2021 6 p.m. – 11.p.m.
Friday, Sept. 17, 2021 6 p.m. – midnight
Saturday, Sept. 18, 2021 noon – midnight
Sunday, Sept. 19, 2021 noon – 5 p.m.
Where: Addison Circle Park, 4970 Addison Circle, Addison.
Free
parking: Millennium Garage (15455 N. Dallas Parkway)
Colonnade Garage (15305 N. Dallas Parkway)
Addison Circle One Garage (15601 N. Dallas Parkway)
Addison Circle Two Garage (15725 N. Dallas Parkway)
Accessible parking is available at the DART Transit Center (4925 Arapaho Road)
General
Admission: Thursday, Sept. 16 FREE
Friday, Sept. 17 – Saturday, Sept. 18 $10 ages 10+, Under 10 FREE
Sunday, Sept. 19 FREE
Tickets will be available for advance purchase at www.AddisonOktoberfest.com at 10 a.m. Wednesday, Aug. 11, 2021.
Sponsors: Paulaner, Cupcake Vineyards, Spectrum, CBS 11, 97.1 The Eagle, Lone Star 92.5
General Info: Visit www.AddisonOktoberfest.com and follow us on Facebook at www.facebook.com/VisitAddison. #AOK21