Lifestyles
Fannin County Fair slated Oct. 6-9
Sep 22, 2021
Fannin County, Texas -- There may be no event that rivals county fairs when it comes to reviving the frontier spirit of hardy, self-sufficient settlers who carved homesteads out of North Texas.
This year's Fannin County Fair features live music by Bailey Rae and Bois d'Arc Red, a new carnival, beauty pageants, a junior rodeo and a Lone Star Garden Tractor Association competition. Kids can compete in a pedal tractor pull.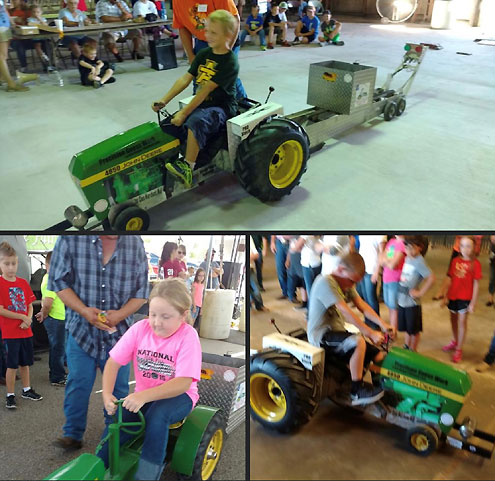 And every county fair is a unique reflection of the heritage passed down from generation to generation. In that regard, many of the skills that will be exhibited at the 2021 Fannin County Fair are the same skills that allowed families to flourish in this area 150 years ago.
Cherished quilts weren't simply beautiful; they also kept winter's chill at bay.
A fundamental understanding of genetics allowed livestock owners to improve herds. Children performed important chores from morning until night. A visit to the 2009 Fannin County Fair will reaffirm that lifestyle still exists in the gentle rolling hills of North Texas.
This annual fall highlight actually begins Wednesday, October 6 and picks up speed Thursday, October 7, with the Fannin County Fair Parade slated for 5:00 p.m. The Fannin County Fair culminates Saturday night, October 9, with the crowning of the Fannin County Fair Queen.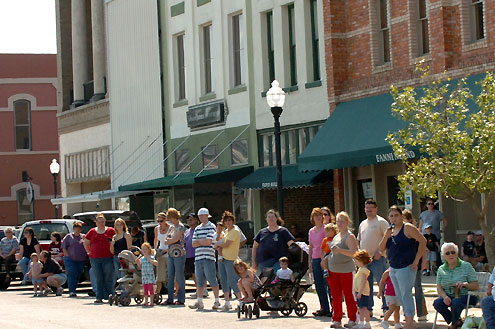 A crowd awaits the Fannin County Fair Parade.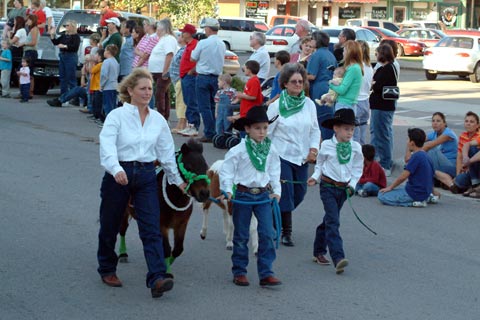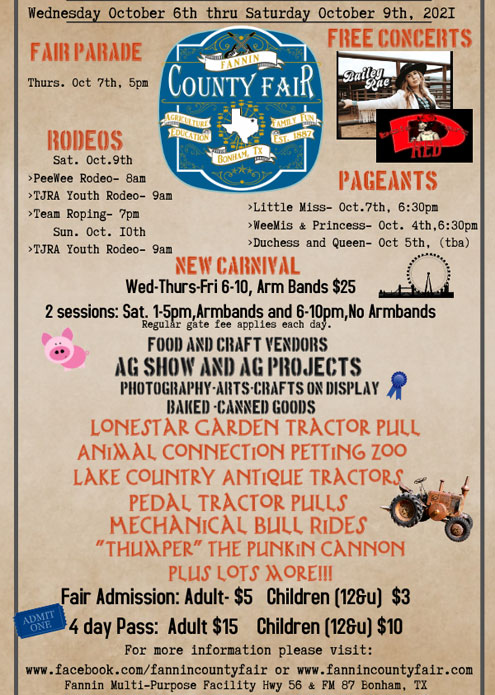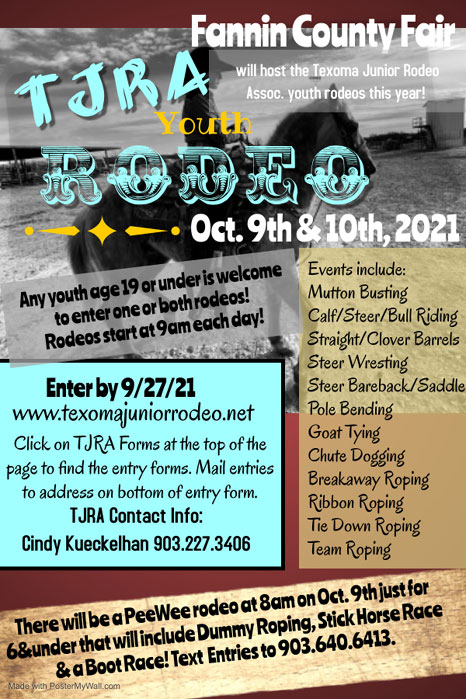 Wednesday>> October 6
8:00 a.m. Market Broiler Show followed by Breeding Poultry Show
8:30 a.m. Market Fryer Show followed by Breeding Rabbits
10:00 a.m. Let's Get Cooking Contest, Expo Building
Noon Breeding Lamb Show followed by Market Lamb Show & Sale Order
1:00 p.m. Dairy Goat Show followed by Breeding, Market & Sale Order
4:00-9:00 p.m. Vendor Booths Open
6:00 p.m.-10:00 p.m. Carnival Rides Open, Arm Bands on Sale
Thursday>> October 7
8am Breeding Swine Show followed by Market Swine Show & Sale Order 10am-12pm Petting Zoo Open, East Side of Expo Building
11am Agriculture Mechanics Show Noon Floral Show
4-9pm Vendor Booths Open 5pm Fair Parade, Bonham Square 5-9pm Petting Zoo Open, East Side of Expo Building Mechanical Bull Rides, East Side of Expo Building
6-10pm Carnival Rides Open, Arm Bands on Sale
6:30pm Little Miss Pageant, Inside Stage
Friday>> October 8
8am Dairy Cattle Show
8:30am Market Steer Show and Sale Order
8:30am "Thumper" the Punkin Cannon Test Session
10am Replacement Heifer Show
Firing of "Thumper" Punkin Cannon
10am-12pm Petting Zoo Open, East Side of Expo
Building 4-9pm Vendor Booths Open
5pm Firing of "Thumper" Punkin Cannon
5-9pm Petting Zoo Open, East Side of Expo Building
Mechanical Bull Rides, East Side of Expo Building
6-10pm Carnival Rides Open, Arm Bands on Sale
6:30pm Wee Miss & Princess Pageant, Inside Stage
Pedal Tractor Pull Registration Open, Ages 4-12 can sign up!, West Side of Expo Center
7pm Pedal Tractor Pull
Lone Star Garden Tractor Pull
Concert: Bois D'Arc Red Band, Outside Stage
Firing of "Thumper" Punkin Cannon
9pm Concert: Bailey Rae, Outside Stage
Saturday>> October 9
8am PeeWee Rodeo
9am TJRA Youth Rodeo
Registered Heifer Show
10am-4pm Antique Car Show, West Side of Expo Building
10-9pm Petting Zoo Open, East Side of Expo Building
Mechanical Bull Rides, East Side of Expo Building
10am-10pm Vendor Booths Open
10:30 Antique Tractor Pulls
11pm Firing of "Thumper" Punkin Cannon
12-3:30pm Shawnda Rains Entertainment Group & Kathleen's Dance Studio, Inside Stage
Noon Lone Star Garden Tractor Pull
TBA Duchess Pageant, Inside Stage
1-5pm Carnival Open, Arm Bands on Sale
2pm Firing of "Thumper" Punkin Cannon
4pm Replacement Heifer Sale
5pm Buyers Meal
5:30pm Firing of "Thumper" Punkin Cannon
6pm Premium Sale & Shop Division Sale & Best of Canned/Baked Goods Sale
Pedal Tractor Pull Registration Open, Ages 4-12 can sign up!, West Side of Expo Center
6:30pm Pedal Tractor Pull
6-10pm Carnival Open, Tickets on Sale
6:30pm Queen Pageant, Inside Stage
7pm Team Roping
Firing of "Thumper" Punkin Cannon
Sunday>> October 10
9am TJRA Youth Rodeo