Real Estate
The Star in Frisco unveils latest development: Phase IV
Sep 2, 2021
Eleven-story office tower to open in 2023
Frisco, Texas – The Star in Frisco unveiled plans for the latest development on its campus called Phase IV – a 313,000-square-foot, 11-story office tower. Groundbreaking is set for this month, with a scheduled completion date by the first quarter of 2023.
Designed by HKS Architects and co-developed by Blue Star Land and Lincoln Property Company, it will be conveniently positioned on the northwest corner of Dallas North Tollway and Cowboys Way and will feature an 8,000-square-foot amenity lounge with a deck and a 100-seat Conference Center. The new office tower will provide more leasing space at The Star for local businesses, and it has already added its first tenant with Cain Watters & Associates signing on to be the first official business to be housed there.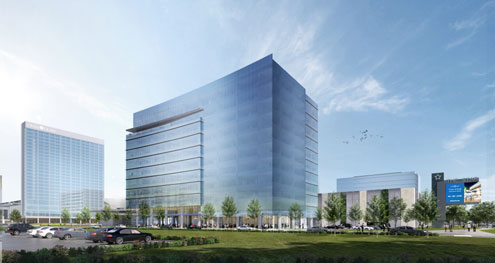 artist's rendering courtesy of HKS
"The addition of Phase IV allows The Star in Frisco to provide another incredible facility for potential clients and companies looking to enhance their work experience," said Dallas Cowboys Chief Operating Officer Stephen Jones. "Since opening The Star in Frisco in 2016, we have always had the goal in mind to continue to add to our incredible campus, and Phase IV provides the potential to be a game changer in the business world."
For more information and leasing inquires, please contact the following at Lincoln Property Company:
Worthey Wiles - Senior Vice President, Leasing
wwiles@lpc.com 214.740.3332
Jake Young – Vice President, Leasing
jyoung@lpc.com 214.740.3436