Entertainment
Great-granddaughter of architect of 1888 Fannin County Courthouse details his life in a book
Aug 31, 2021
The cupola has been placed on the top of the tower and W. C. Dodson's Fannin County Courthouse is close to being fully restored. At the same time this restoration has been going on, I have been finishing the manuscript on a biography of my great-grandfather, the man behind that building. I've been asked how I came to write the book and what the process has been like. It's been an interesting and exciting journey.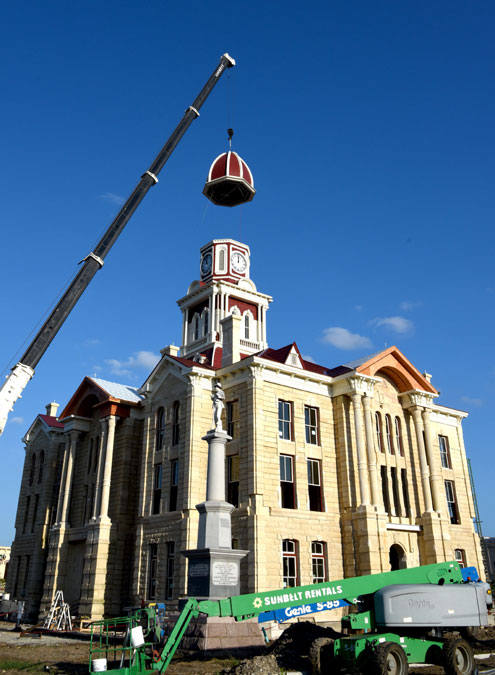 photo by Allen Rich
To begin with, family history has been a life-long interest for me. Growing up, my brothers and I were often told stories of our heritage. We were shown the tableware that was used at Great-grandfather Blake's ranch in Texas, the one-dollar Federal Reserve note found in Great-grandmother Blake's purse the day she died, the Civil War medal that Great-grandfather Dodson had kept. My mother told us stories of her father who, at age four, stood on the family plantation in North Carolina and watched the Union army cross the family's land on its way back from burning Atlanta, leaving a path of destruction in its wake. We were aware that we had ancestors who were real people and who had interesting stories to tell.
Then, over thirty years ago, my brother began doing genealogical research. When he sent some materials to me for review, I was soon hooked. The two of us collaborated, unearthing information about our ancestors. We were focused entirely on filling in the branches on our family tree. That changed about five years ago when we stumbled across a publication of the Brazos Heritage Society by Robert Borden. His book, Historic Brazos County, devoted an entire chapter to two early settlers in Bryan Texas, my great-grandfather Wesley Clark Dodson and his wife, Sarah.
The chapter contained letters between Sarah and Wesley and photographs of them. We contacted Robert Borden, who put us in touch with the Texas Collection at Baylor University that had a stash of my great grandfather's papers. This treasure trove of documents included Wesley's memoirs, which he had written when he was in his eighties. The documents contained such rich detail and told such a compelling story that, as an American historian, I thought a book just had to be written.
With my brother's help, I began to track down information about Wesley's architectural career, finding the courthouses, jails, schools, and churches that he had designed. I investigated his efforts to establish architecture as a profession, and to establish, then serve as President of, the Texas State Association of Architecture. I also researched his Civil War service, uncovering his writings and his insights into the losing Confederate effort. And I pushed further investigating the lives of his ancestors.
Many kind people provided information or pictures, some at County Historical Societies, such as Fannin County's Larry Standlee, and university libraries, such as Jacob Mangum at the Portal to Texas History at the University of North Texas Libraries, to name just a few. Previously unknown cousins helped locate graves and provided information from their own research. Surprisingly, many people I contacted seeking an answer to one question put me in contact with people who provided information that enabled me to answer other questions. My daughter Carolyn proved to be indispensable as a reviewer and editor, serving to sharpen and clarify the organization and the writing.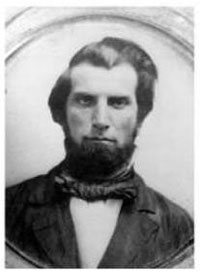 Wesley Clark Dodson - photo courtesy of Texas Collection, Baylor University

In writing this book, I got to know my great-grandfather, a remarkable man, a peaceful man of great faith and integrity. I learned how his faith and his determination to lead a useful life gave him the resilience he sorely needed as he faced what he called the "many vicissitudes of fortune." The Civil War destroyed the life he had built for himself and his family in Alabama. In post-Civil War Texas, he faced military rule, economic uncertainty and rampant lawlessness. He also lost his beloved wife Sarah to the merciless Texas weather.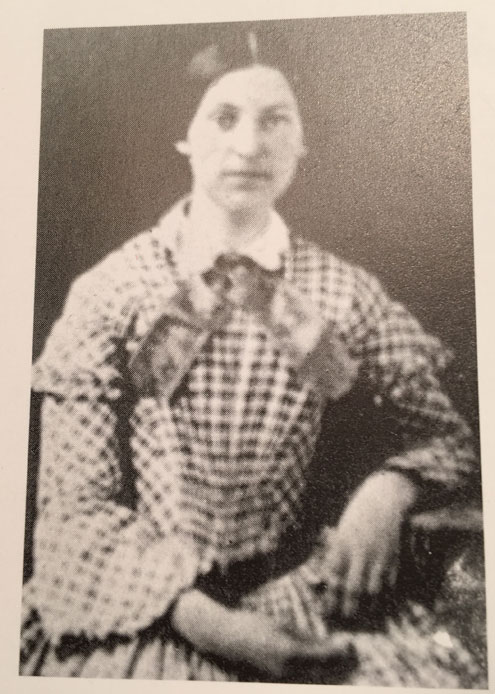 Sarah Dodson -photo courtesy of Texas Collection, Baylor University
I came to understand why Wesley built courthouses, jails, schools and churches, institutions he believed Texas needed in order to become what he called "a good society." He became one of the foremost post-Civil War architects during the Golden Age of Courthouse Construction."
Writing the book was a labor of love. I am anxious to share more of it and hope that the people of Fannin County are interested in learning more about the man who designed their beautiful courthouse.
Mary Helen Dodson - hdodson@comcast.net