Local News
McKinney Chamber hosts 'A Timeline of Remembrance' event
Sep 11, 2021
McKinney, Texas -- Where were you on September 11, 2001? For 20 years, people have been asking that question and for many now living in North Texas, the answer is "New York City." That is one of the many reasons why the McKinney Chamber of Commerce Leadership McKinney Alumni Network hosts an annual event to honor the those who gave their lives and the other victims of the 9/11 terrorist attacks.
This year, the Leadership McKinney Alumni Network will be hosting a three-day event called Patriot Day – A Timeline of Remembrance. Starting on Friday, September 10, and running through Sunday, September 12, those in and around the community will have the opportunity to take a trip back in time on a self-guided tour of a timeline of events.
"We invite the entire community to join us as we pause to remember those who lost their lives on this day 20 years ago," said Connie Gibson, the Development Office Manager at McKinney Christian Academy and the Chair of the Leadership McKinney Alumni Network committee. "The 2001 terrorist attack resulted in the largest loss of life by a foreign assault on American soil. At the end of that fateful day, our country pulled together as Americans, and I pray that patriotic spirit overtakes this country once again.
In all, nearly 3,000 people died and over 6,000 were injured during the terrorist attacks on the World Trade Center, the Pentagon, and United Flight 93. 400 of those were firefighters and police officers.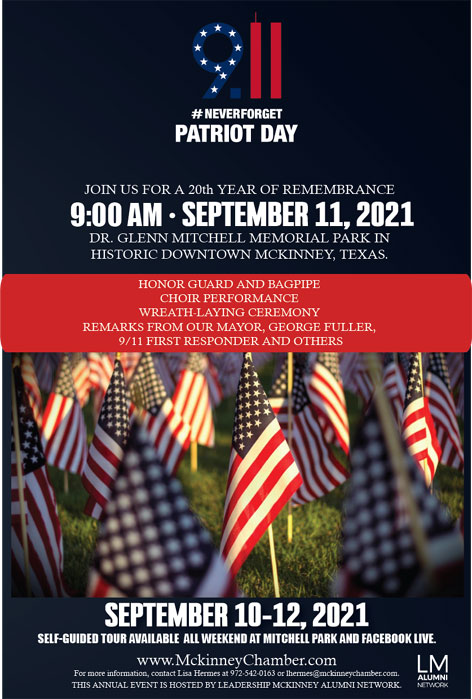 "On the 20th anniversary of that horrible day, we encourage everyone to, in their own way, memorialize not only those who made the ultimate sacrifice on September 11, 2001, but also the men, women, and children who needlessly lost their lives that day," said Lisa Hermes, the President and CEO of the McKinney Chamber of Commerce. "It's vital that we keep the memory of them alive."
Patriot Day – A Timeline of Remembrance will be set up at Mitchell Park in Historic Downtown McKinney.