School News
Southeastern hosts Texoma College Fair on September 16
Sep 14, 2021
Durant, Okla. – More than 500 high school students from southern Oklahoma and North Texas are expected to attend the Texoma College Fair at Southeastern Oklahoma State University.
The event will be held on September 16 from 9:00 to 11:00 a.m. in the Bloomer Sullivan Arena.
Representatives from Southeastern and other schools will be in attendance to answer questions regarding admissions, scholarships, financial aid, and programs of study. Representatives will be coming from Oklahoma, Texas, and surrounding states to provide information and assist students.
For more information, please contact the Office of Admissions at (580) 745-2060 or visit www.se.edu/admission.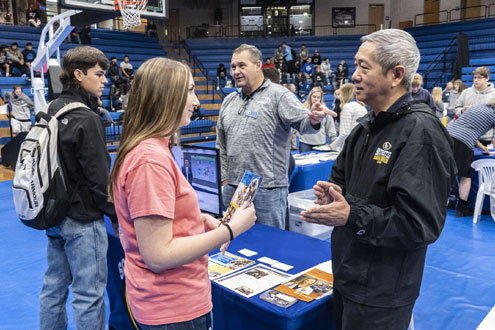 Southeastern professors Dr. Tim Smith and Dr. Ning Wu visit with prospective students.