School News
State of Oklahoma Secretary of Health visits Southeastern vaccination site
Sep 19, 2021
Durant, Okla. – The COVID-19 vaccination event at Southeastern Oklahoma State University on Wednesday, September 8 drew the attention of an interested visitor.
Kevin Corbett, Secretary of Health and Mental Health for the State of Oklahoma, was on campus to observe the process of the administration of the vaccines to students, faculty, staff, and the public.
Southeastern is partnering with the Oklahoma Department of Health Mobile Unit to provide access to free COVID-19 vaccines.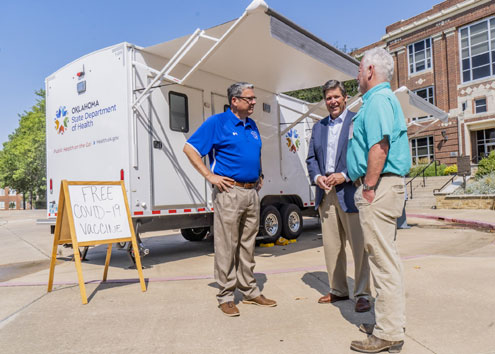 Southeastern president Thomas Newsom, Secretary Kevin Corbett, and Bryan County Commissioner Ron Boyer visit Wednesday at the vaccination event.
Corbett visited with Southeastern president Thomas Newsom, Bryan County commissioner (District 1) Ron Boyer, and officials from the Health Department while on campus.
The Mobile Unit will be parked in front of the Glen D. Johnson Student Union again on Wednesday, September 22, from 10:00 a.m. to 2:00 p.m.