Front Page
A bridge is born
Sep 15, 2021
Fannin County, Texas -- Since Lake Ralph Hall broke ground, construction has begun on the Hwy 34 bridge over the future lake. Upper Trinity Regional Water District hired Flatiron Constructors as Design Builder and Lamb-Star Engineering to oversee construction on over three miles of new bridges and surrounding roads. A portion of FM 1550 will be relocated, and FM 2990 will be closed in the future.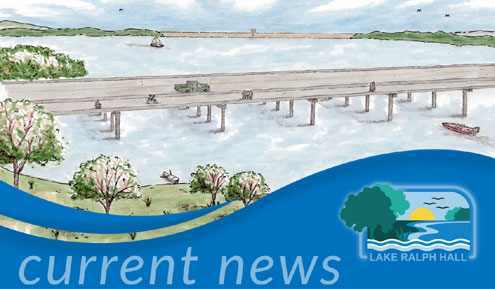 Work began on the Hwy 34 bridge's embankment and drilling the shafts to hold its columns. Around 40-50 construction workers are currently onsite to complete each section of the bridge's essential structure (steel supports and beams) before going on to the next section.
This is no small project, and it will continue throughout the building of the reservoir and dam.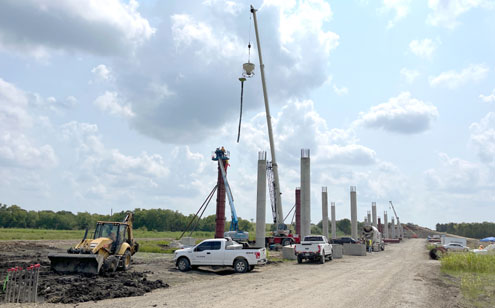 For scale, consider that:
•Crews will pour over 80 million gallons of concrete – enough to fill over 121 Olympic sized swimming pools.
•The project's rebar alone will weigh almost as much as 200 elephants.
•Each bridge beam weights over 50 tons, and together all the beams will clock in at over 20 thousand tons (weight of approx. 1,000 fire trucks).
•The tallest column will be about as tall as a 10-story building.
•Construction crews will lay over 6.5 football fields worth of bridge deck by the time they are done.
Improving the North Sulphur
In addition to building Lake Ralph Hall and supporting infrastructure (pipelines, pump station etc.) to carry the water to treatment, the lake project also has environmental benefits, which include restoring a portion of the original North Sulphur River.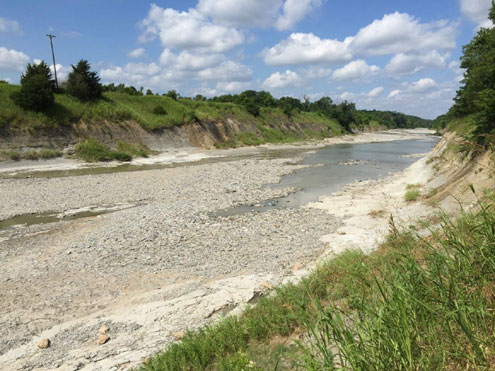 In the 1920s, the North Sulphur river channel was straightened to help reduce flooding of valuable farmland nearby. Since that time, the river channel has eroded significantly, going from 16 feet wide by 10 feet deep to approximately 300 feet wide and 60 feet deep — over 20 times its original size! Wetlands, wildlife habitat and multiple state highway bridges have been destroyed in the process.
Not only will the lake itself help reduce erosion, but UTRWD is also in the process of contracting with a full service provider to restore a portion of the river to its beautiful and natural, meandering path as part of its environmental commitments for the project. Learn more at https://lakeralphhall.com/benefits/mitigation-and-watershed-areas.
Planning for land development
Even as #LakeRalphHall is just beginning construction, work is already underway to plan land use. Fannin County Commissioners Court and Lake Ralph Hall Zoning Commission are creating a Lake Ralph Hall Comprehensive Plan to guide land development decisions around the new lake (especially within 5,000 feet of its shore). Over the next year, Fannin County will host a variety of meetings, events and engagement opportunities open to the public. Their goal? To ensure development supports a thriving recreational destination and water source for years to come.
Learn more and provide input on the plan at  https://freese.mysocialpinpoint.com/ralphhall/home (see the "Get Involved" page for a survey and more).