Lifestyles
White River Fishing report by Cotter Trout Dock
Sep 20, 2021
Cotter, Arkansas -- Bull Shoals Lake has reached the established goal of 661 feet msl elevation and changes are occurring in the flow pattern on the river. Consistent high water over the last few months provided some exceptional catches, and steady low flows will offer the same.
Anglers encountered some challenges this past week as we neared power pool: the releases varied throughout the day from low to high so some quick, creative adjustments were called for. Leave the bigger baits in your tackle box when the morning water level is near a single unit (3,300 cfs) or just above; instead, pull out the trusty spoons: gold or copper/bronze Colorados and hammered red-and-gold spoons. The Vibrax Blue Fox is a good choice in the afternoon on the slight rise.
The Rebel Crawfish baits (chartreuse/orange and ditch/brown with orange belly) were proving successful for waders and bank fishers; live crawdads provided better action angling from a jon boat.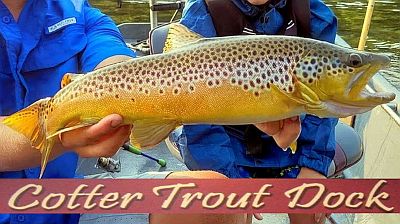 Seems we might have a few weeks more of warmer, summer-like weather but as we approach autumn, put the crawfish baits away and turn to orange and yellow egg pattern baits. Scented manufactured eggs, drifted across the bottom near the channel during the low water releases or closer to the bank if the river is running swifter and deeper, never fail to pull in a good number of rainbows.
Consistent water level patterns will allow the trout to settle down into normal feeding habits; early morning and early evening may be the best times for easy catches. The trout (as well as the guides) are already adjusting to the lower depth but when sudden changes to the water level occur, you will need to be responsive in changing your baits. Come on over and spend some time with us on the river – you won't regret it.