Lifestyles
Open Arms Homeless Shelter participates in North Texas Giving Day
Sep 17, 2021
Hope | Encouragement | Shelter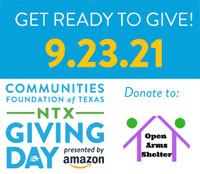 Fannin County, Texas -- Open Arms Homeless Shelter is Fannin County's only homeless shelter. The shelter provides overnight shelter, showers, and laundry facilities. A continental breakfast, sack lunch, and hot evening meal are provided every day for the residents. The shelter is closed during the day while residents work, volunteer, or job hunt. Residents meet with a case worker to develop and then put into action a plan to achieve independent living.

The shelter is a faith-based nonprofit that depends upon community support – donations of time, goods, and money. Open Arms has been blessed with donations from churches, organizations, businesses, and individuals. Thank you, Fannin County, for helping obey Jesus' call in Matthew 25:35: "For I was hungry and you gave me food, I was thirsty and you gave me drink, I was a stranger and you welcomed me."

Open Arms is excited to have a new opportunity for others to join in this ministry to the homeless of Fannin County. The shelter is participating in North Texas Giving Day on September 23, 2021. Last year Open Arms raised almost $1,000 on Giving Day. The goal this year is $2,000. The shelter has matching funds of $550. Help meet the goal and secure funds for helping the homeless in Fannin County. Donations can be made through the NTX Giving Day website or by following the link at oashelter.com.