Columnists
Pleasant memories
Sep 20, 2021
Although I haven't been to the State Fair of Texas in many years, I have a lot of pleasant memories from being there as a child.
My parents took me there several times although I'm not sure of the exact years, except for 1956. October 11 of that year was the first time I saw Elvis Presley in person; he performed in The Cotton Bowl and the tickets were priced at $1.25. I feel fortunate that in later years I saw Elvis several more times in concert, in fact during various trips to Memphis I got to know two of his cousins.
The State Fair of Texas is an annual state fair held in Dallas at historic Fair Park. it has taken place every year since 1886 except for various periods during World War I and World War II as well as 2020 due to Coronavirus. The 135th annual run of this year's fair will begin on September 24 and continue through October 17.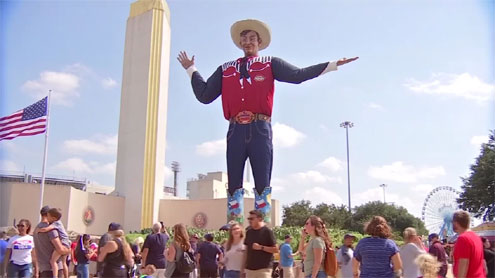 In my early trips to the fair I remember that I enjoyed the midway the most, especially the bumper cars and visiting the fun house with the crazy mirrors. As I grew older, I tended to enjoy the exhibits in the different buildings more and more.
I enjoyed the exhibits in the Women's Building, however it seemed misnamed to me since many of the exhibits there appealed to just about everybody.
Another very popular building I remember was "The Automobile Building" and seeing many of the new car models, a great uncle of mine bought the exact 1963 Buick Riviera which had been displayed at the 1962 State Fair of Texas. Back then the Buick Riviera was an entirely new model, in fact I think people enjoyed seeing the new cars more back then because each year a lot of the new models looked different unlike many cars of today.
People seem to enjoy the various foods at the fair, that is true at the our state fair and probably at most other state fairs around the country. Two of the more unusual foods this year that the judges liked are Deep Fried Seafood Gumbo Balls and The Armadillo, every year the contest entrants come up with many original and strange foods. The first item is loaded with crab and sausage and shrimp, the last one is a big cookie butter ice cream sandwich shaped like an armadillo. Through the years many unusual foods have been featured at the fair, two more normal always popular foods found at the fair each year are funnel cakes and turkey legs. Fletcher's Corny Dogs have been a part of the State Fair of Texas since 1942, over 500,000 corny dogs are sold annually at the fair.
When I was growing up, milk delivered by a milkman to homes was pretty common. The milk we had delivered was Borden's. Elsie the cow has been Borden's very popular symbol since 1936, since that time there have been several different Elsies representing Borden. I remember seeing one, or maybe more than one, of those Elsies in different years at the fair's Borden's display in the livestock area. Borden's milk is still available in grocery stores but home delivery is a thing of the past, I really like their Dutch Chocolate milk. Around Christmas, Borden's Egg Nog is always popular. I used to also enjoy their Lady Borden Ice Cream. The only Borden's Ice Cream Shoppe still operating in the United States is in Lafayette, Louisiana.
A very big event during every fair is the annual football classic between the University of Texas and The University of Oklahoma, there has been some talk in recent years about changing the site of the long time tradition but I don't believe the alumni of either school want that to happen. This year's game will be on October 9; in the 116 games of the series Texas leads with 62 wins while Oklahoma has had 49 wins and there have been five ties.
As an adult and a former auxiliary police officer, I have ridden probably ten or twelve times with friends that were Dallas Police Officers. The area we were mostly in was around Fair Park and south, which is one of Dallas' rougher areas. It seems like every year they are trying to keep the fairgoers more safe by adding additional police officers and more security precautions. The area may be safer now during the fair but I bet it's still pretty rough late at night. I remember the activity in that area as kind of like watching an episode of the "Cops" television show in person.
There have been three movies made titled "State Fair." I've only seen the last two. The 1933 version starred Will Rogers and Janet Gaynor and the one made in 1945 starred Dana Andrews and Jeanne Crain, those were both about a family attending the Iowa State Fair. The 1962 version was similar but the story centered around the Texas State Fair, it starred Pat Boone and Ann Margaret. Many times movies that are remakes aren't that good but I enjoyed both of the two state fair movies I've seen, I have been a Will Rogers fan a long time so I plan to see that one also.
If you want to see a schedule of events, as well as a listing of some of their unusual foods, for this year's State Fair of Texas go to www.bigtex.com.
If you have any comments or questions my e-mail address is deh63shs@yahoo.com.