Sports
White River fishing report by Cotter Trout Dock
Sep 24, 2021
Cotter, Arkansas -- Bull Shoals Lake is about 1.5 feet below power pool so it's not surprising that generation flows have been low. During this past week, the water level on the White River in the north-central Arkansas Ozarks has remained steady around one unit in the morning. The upticks in generation coming in the late afternoon, with usually around 4-5 generation units being used.
Up until this Tuesday, we successfully dodged daytime rainfalls but braved a wet day and sent our anglers home with a great catch of rainbows. Rain or shine, our rainbows are chasing shrimp, especially when it's paired with a small piece of power bait. As we move into autumn and get closer and closer to the brown trout spawning season, change your bait color to orange or pink to lure them in.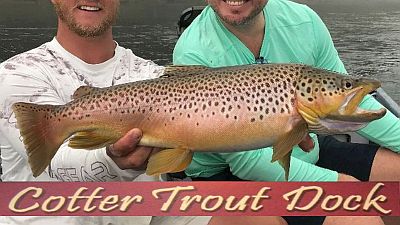 The brown bite has slowed some in this lower water, but a sculpin drifted near the bottom will still get a good bite or two. The Vibrax Blue Fox spinner, 3/16-ounce gold, or the bright chartreuse with a partially silver blade, were providing a steady catch of 12 and 13-inch rainbows.
As always, it's hard to beat a good day of jig fishing; tie on an olive or an olive/black Marabou jig (3/16-ounce works best in this water level) and get ready to net some trout. Use those same colors for casting Wooly Buggers with your fly rods. Enjoy these cool mornings and sunny days on the river; stop by and share your latest fish story.