Sports
SE set for Battle of Storms at SNU
Sep 24, 2021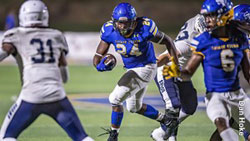 Durant, Okla. - Southeastern will be looking to keep its record perfect when it hits the road for the first time in more than two weeks to take on Southern Nazarene on Saturday afternoon at 2:00 p.m. in Bethany, Okla.

The Savage Storm head out with a 3-0 record on the season after a 37-28 win over Southwestern Oklahoma State at Paul laird Field last Saturday, starting the season with three-straight wins for the first time since 2017.

Saturday's Battle of the Storms is the eighth meeting between the two programs on the gridiron with Southeastern holding a 6-1 edge in the all-time results, with the one loss coming by a 22-21 score in the 2019 matchup.

In Saturday's Win Daulton Hatley surpassed the 300-yard mark through the air for the second time in three games and has now tossed for 905 yards and six touchdowns while completing 64.7 percent of his passes.

His top receiver versus SWOSU was Katrell Blakely who hauled in 10 catches for 127 yards, while Marquis Gray piled up 209 yards on five grabs.

Blakely leads the receiving corps in catches with 18, while Gray's 245 yards leads the team in yardage, with Braxton Kincade snagging a team-best three touchdowns.

The running game has featured a three-headed monster of CJ Shavers, Deundre Wheeler, and Ryan Taylor who have combined to help the Stork average 159.7 ypg on the ground, with Shavers pacing that group with 77.3 per game, while Wheeler has scored four rushing touchdowns.

Defensively, SE has been stout despite playing some powered offenses and on the year has held opponents to 363.3 yards per game of total offense, including 149.3 per game through the air.

Ke'Shawn Somerville has a trio of pass breakups, while Josh Mulumba has two, with Keelan Chilton, Jaylen Shaw, and Conner Swope each logging an interception.

Maalik Hall leads the team in tackles with 17 and sits atop the Great American Conference in tackles for loss, collecting seven on the season thus far.

SNU comes into the contest with an 0-3 record on the year and off a 40-13 loss to East Central last Saturday.

The Crimson Storm is averaging 222.0 yards per game of total offense, with 128.0 coming through the air and 98.0 on the ground.

Jarvis Davis leads the way for SNU in rushing and passing, putting up 94 yards and a touchdown on the ground while passing for 244 yards and a TD.

Gage Porter is next in line on the ground with 53 yards and three touchdowns, while Reid Roelofs leads the team's receiving corps with 111 yards on 11 catches.

Josh Lopez leads the defensive effort with 25 tackles on the season, while Marcus Sowell has a pair of sacks and Cameron wells has a pick.