Local News
Bonham City Council approves two one-way streets
Oct 13, 2021
Bonham, Texas -- Bonham City Council convened Monday, October 12, 2021 for a regular meeting. All six councilmembers and Bonham Mayor H. Compton were present. The meeting opened with an invocation by Rev. Henry Shelton of Trinity Baptist Church.
*****
Dave Struchtemeyer, CPA, Director of Finance for the City of Bonham, presented the financial report for month ending September 30, 2021.
"General Fund revenues outperformed the budget by 8%," Mr. Struchtemeyer reported. "Of that favorable variance, $180,000 was from sales tax receipts that were budgeted fairly conservatively last year due to the uncertainty of the pandemic."
Other revenue highlights for the year that the director of finance elaborated on included building permit and inspection fees that totaled more than $200,000 this year -- the highest they have ever been -- and Lake Bonham campsite fees were over $110,000 -- again, the highest that line item has ever been.
Struchtemeyer said General Fund expenses came in under budget by 2%. Salaries and benefits were favorable $67,000, primarily due to lower than expected healthcare cost, and repairs and maintenance was favorable $57,000 across the board.
"As was expected, Water Sewer Fund missed budgeted revenue by 7%, primarily due to average billing during the meter change-out project," Struchtemeyer noted.
Struchtemeyer said he expects the Water Sewer Fund to recover this year.
*****
In the segment of the meeting reserved for citizens to speak, Tony Rodriguez told councilmembers that he is concerned about people parking on the sidewalks -- even commercial vehicles at times -- which forces pedestrians to walk in the street.
"Why are they destroying our city sidewalks?" Mr. Rodriguez asked.
Rodriguez also asked for the city's help with property across from his church at the corner of Maples and 10th.
"It's a hazard," remarked Rodriguez.
Rusty Deets spoke in regards to an agenda item that would come up later in the meeting and could make the 300 block of Beech Street one-way; he reminded city leaders of past precedents they had set by turning down similar requests.
*****
Bonham City Council ratified and accepted Bonham Economic Development Corporation's operating budget for fiscal year 2020-2021, as approved by the Bonham Economic Development Corporation Board of Directors.
Councilmembers voiced support for BEDCo's ambitious stance, in particular for the shared vision to develop Jones Field.
*****
Councilmembers approved an ordinance amending Ordinance 1366 providing a permit, registration, re-inspection and Planning and Zoning fee schedule.
This amendment will update the city's permit fees which haven't been increased since 2018. The new fees will be similar to what surrounding cities charge.
*****
Bonham City Council approved an ordinance amending Ordinance 1371 creating a franchise for residential and commercial solid waste collection and disposal services.
This amendment will raise the fee to $2,000 per day, per customer for companies operating within the city limits or on leased property at Lake Bonham without a franchise agreement.
*****
Bonham City Council approved an ordinance declaring the 500 & 600 blocks of West Third Street and the 300 block of Beech Street in the City of Bonham, Fannin County, Texas for one-way traffic from West Sam Rayburn Drive; southbound traffic on Beech Street; eastbound traffic on West Third Street from the intersection of West Third and Beech Street.
The 300 block of Beech Street runs along the east side of the Feed Lot and has, at peak times in the past, impacted traffic on West Sam Rayburn Drive.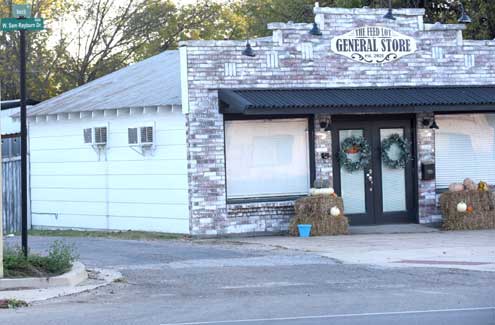 Bonham Mayor H. Compton asked residents to shop local in order to help area businesses that support our community in many ways.
Mayor Compton also reminded residents of the anti-litter slogan, "Don't Mess With Texas," and he asked older residents to set a good example by properly disposing of trash and making sure our community is a beautiful place to live or visit.