Lifestyles
Haunted Denison Ghost Tours every weekend this October
Oct 15, 2021
Denison, Texas -- Where can you find a place to learn some of the history of Denison while being entertained with creepy stories of downtown Main Street? Well, Red River Tours' Haunted Denison Ghost Tours on Main Street every weekend this October are the answer.
Put on your walking shoes and get ready to travel back through time from Denison's historic past to the haunted present! Come hear the Haunted History of Denison! Grab your walking shoes and be prepared to learn more about the spirits which linger in the shadows in downtown Denison and the true history behind the hauntings. Come walk where history lives and there is a ghost around every corner. Every hair-raising tale is true and verified by one of Texoma's historians and author Natalie Clountz Bauman and is based on the stories in her local book series "Red River Hauntings – True Ghost Stories" Volumes 1-5.
We have two one-hour tours this year in Denison with some new information. We hope you will be able to sign up for both for the full experience! The tours will be easy to walk and wheelchair accessible as they are on sidewalks outside.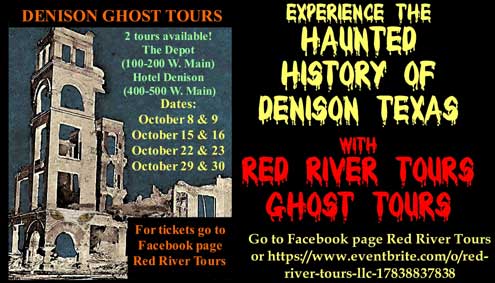 Red River Tours, L.L.C. will offer two one-hour tours each Saturday night, October 16, 23, & 30. Both tours are available on Saturday nights. There will be one one-hour tour each Friday night at 7:00 p.m., October 15, 22, & 29. Tours #1 and #2 are offered alternate weeks on Friday nights.
Red River Tours Presents: Denison Ghost Tour #1 The Depot to the Raynal Building will be each Saturday at 7:00 and the tour group meets at the corner of Main Street and Austin Ave. at 200 W. Main St. Denison, TX 75020.
Red River Tours Presents: Haunted Denison Ghost Tour #2 Hotel Denison, Rialto and Barretts will be each Saturday at 8:30 and meets at Heritage Park in Denison.
All tickets are non-refundable and non-transferable, bring your jacket and umbrella if needed! Tours are not recommended for children under 12 years old. Parents are responsible for the safety and behavior of their children.
Tours are $15.00 per person plus fees and tax. To get tickets, see the Facebook page Red River Tours, or go directly to Eventbrite to buy the tickets at this link: https://www.eventbrite.com/o/red-river-tours-llc-17838837838
The tours are fun and informative. Order online early before all tickets are gone. We can't wait to see you there!