Local News
Manufacturing Victory: The Arsenal of Democracy at Garland's City Hall through Aug. 15
Aug 14, 2022
Touring exhibit makes first and only stop in Texas; highlights home front contributions to World War II
Garland, Texas -- Garland welcomed a new special exhibit on June 6 – Manufacturing Victory: The Arsenal of Democracy presented by national touring exhibit sponsor HP with additional support provided by Citi. Produced by The National WWII Museum in New Orleans, the exhibit follows the industrial journey that took the United States from a nation perilously unprepared for war to a global superpower that led the Allies to victory in World War II.
The exhibit, which is free and open to the public, will be on display in Garland's City Hall through August 15. Hours are Monday and Tuesday 8 a.m. - 8 p.m., Wednesday – Friday 8 a.m. to 5 p.m. and Saturday 10 a.m. to 4 p.m.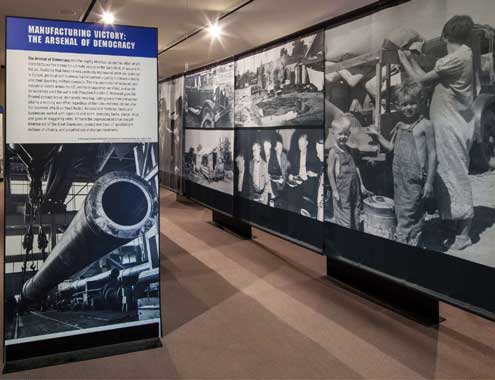 Manufacturing Victory comprises 1500 square feet of compelling artifacts, photographs, oral histories and interactive audio-video components that immerse the visitor in the story of America's mighty industrial war engine. The exhibit debuted at The National WWII Museum in 2014, before embarking on a national tour to expand access and educational opportunities across the country. This is the exhibit's first and only stop in Texas.
Background
During the war, a sense of civic duty and responsibility united the nation and fueled America's war effort like nothing before or since. American citizens stepped forward to fulfill the jobs demanded of them, and they excelled beyond all expectations. But the US mobilization on the Home Front actually began before the country was officially involved in the conflict.
President Franklin D. Roosevelt addressed the nation on December 29, 1940 – a year before Pearl Harbor – declaring, "We must be the great arsenal of democracy. For us, this is an emergency as serious as war itself. We must apply ourselves to our task with the same resolution, the same sense of urgency, the same spirit of patriotism and sacrifice as we would show were we at war."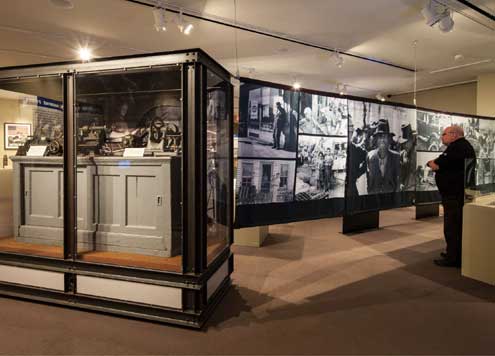 Roosevelt gave the arsenal concept a democratic meaning that saw every man and woman as a vital partner in the war effort regardless of where they worked. United by the Japanese attack on Pearl Harbor, Americans in factories, farms and businesses ceaselessly worked with ingenuity and spirit to create an unprecedented arsenal of military resources to overwhelm our enemies.
"Civilians on the Home Front who worked to assemble America's arsenal of democracy were essential to securing an Allied victory," said exhibit curator and Samuel Zemurray Stone Senior Director of Research and History at The National WWII Museum Keith Huxen, PhD. "Their stories serve as a reminder of what patriotism truly means."
Iconic companies contributed to victory from the factory floor to war in the air, on land and across the seas, producing at a staggering rate and with unparalleled excellence. In the process, the arsenal of democracy opened new opportunities to individual Americans and planted seeds that changed the social fabric of America, crushed the Axis war machine and vindicated the President's democratic and strategic vision.
"It's an honor and pleasure to be in association with and a sponsor of an organization that preserves and celebrates this country's history," said Scott Spradley, CIO Hewlett Packard Enterprise. "The Manufacturing Victory traveling exhibit is an excellent example of how The National WWII Museum is ensuring that all generations understand the price of freedom. We're thrilled to support this exhibit and expand its reach, and we hope that audiences everywhere are inspired by it."

Garland's City Hall is located at 200 n. Fifth Street, Garland, TX 75040. For further information, please visit GarlandHeritage.com or call 972.205.2479. See artifacts and images from the exhibit and learn more about America's arsenal of democracy at manufacturing-victory.org.
Garland, Texas was founded as a chiseled pioneer town in 1891, and has since flourished into a large city with Texas-sized opportunity. It is just next door to the east side of Dallas - a stone's throw, but it feels a world away. Garland is a culturally diverse city with rich history, urban appeal, natural resources and pure Texas charisma. Enjoy some of the best Texas shopping, a rich arts scene, idyllic outdoor recreation, and a chock-full slate of special community events. Garland has an adventure made for everyone.
Residing in a Santa Fe Depot built in 1901, Garland's Landmark Museum displays and interprets local artifacts from the 1800s to the present. Visitors learn about early settlers, railroads, manufacturing, the downtown square, commerce and more. The museum is located at 393 N. Sixth Street and is open every Thursday, Friday and Saturday from 10 a.m. to 2 p.m. Admission is free.
Hewlett Packard Enterprise is an industry leading technology company that enables customers to go further, faster. With the industry's most comprehensive portfolio, spanning the cloud to the data center to workplace applications, our technology and services help customers around the world make IT more efficient, more productive and more secure.
The National WWII Museum tells the story of the American experience in the war that changed the world – why it was fought, how it was won, and what it means today – so that future generations will know the price of freedom, and be inspired by what they learn. Dedicated in 2000 as The National D-Day Museum and now designated by Congress as America's National WWII Museum, it celebrates the American Spirit, the teamwork, optimism, courage and sacrifices of the men and women who fought on the battlefront and served on the Home Front. For more information, call 877-813-3329 or 504-528- 1944 or visit nationalww2museum.org.