Sports
Catfishing, then and now
Jul 16, 2022
I have had a lifelong love of catching catfish and… eating them! I guess my passion for catfish comes naturally; as a boy growing up on a poultry farm in Red River County, catching catfish was a way of life.
Every nine weeks or so when the chickens sold, we would pack up the old 1950 International pickup with tarps, Coleman stoves, cast iron skillets, bedding, etc and head up to a little lake in southeast Oklahoma that was chock full of channel catfish.
I would begin catching bait, small perch from out farm pond, the day before. Upon arriving at our fishing hotspot, the drill was to set up camp quickly, which was easy to do. We had no tent, just tarps or, as they were called back then, 'wagon sheets'. Tarps on the ground with blanket served as bedding.
As soon as camp was organized, my dad and one other paddled across the little lake in a homemade 12 foot wooden boat and set a couple of trot lines which were quickly baited with cut perch. I don't remember any rod and reel fishing there, or very little, we depended upon the trot lines to produce fish and, they always did! After the line was set, we would paddle over and tie the little boat up to a stump and watch the lines.
After thirty minutes or so, we would paddle over and run them, always boating plenty of fish for that first evening fish fry which was a very big deal. Fried potatoes with a handful of chopped onion thrown in and a couple cans of pork n beans, light bread and crispy fried very fresh channel catfish was the evening meal. For the next couple days we fished and cooked fish and grilled hamburgers and hotdogs and stocked the cooler with plenty of catfish to carry us over until the next time the chickens sold and Dad declared another fishing holiday.
Our farm was a short walk from Pecan Bayou which is a spring-fed creek with headwaters in the northwest corner of Red River County. In the spring when the creek was running, we cut poles from a switch cane patch behind the house and ran what we called 'set poles'. The rigging was pretty basic. A pole about 8 feet long with the old woven fishing line common back then, a weight and hook baited with cut perch. We would set about twenty of these set poles out along the creek an hour before dark and run them every hour or so for a couple hours and then again at first light the next morning. I can vividly remember walking up to that creek bank and seeing those poles with the butt end stuck in the mud and the tip being pulled down by a feisty channel catfish.
Later in life as an outdoors writer, I've had the opportunity to watch the sport of catfishing grow way beyond what I knew as a kid. I was once invited by the great Bill Dance to take his place in a boat with James 'Big Cat' Patterson and fish the World Championship of Catfishing on the Tennessee River. James and I didn't win this prestigious tournament but I did learn a lot about catching big blue catfish in a river with current. We used Santee Cooper rigs baited with skipjack herring and landed several what I considered 'big' blue cats.
Through the years, I have fished with some of the best pro catfish guys in the country. David Hanson guided on Tawakoni for years and targeted trophy class blue catfish in the cold weather months and eating size channels in the summer. I venture to guess David has guided folks to more catfish through the years than anyone.
The past few years, I have fished with one of David's friends, Tony Pennebaker who specializes in catfish, blues in the winter and channel cats beginning in late May. Tony and I have had lots of great times together on the water and I honestly don't remember ever not heading home with lots of fillets for the fish fryer.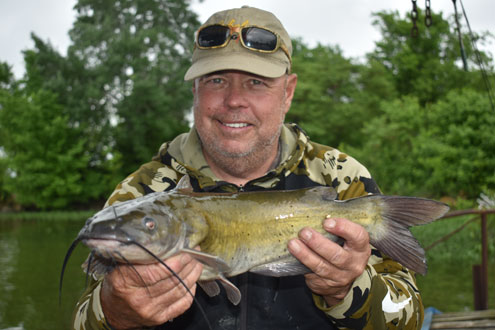 Lake Tawakoni guide Tony Pennebaker with a good eating channel catfish. photo by Luke Clayton
Fishing techniques differ when targeting blue catfish opposed to channels. Channel catfish will hit a variety of baits and so will blues to some degree but when targeting channel cats, it's hard to beat a good cheese baits. There is a wide variety of baits on the market today and they will all catch fish. I've witnessed many arguments about just which bait is best.
I worked with a company years ago that set out to make the 'best catfish bait on the market'. I assembled a group of guides that fished every day and each tested batches of the newly developing bait. Finally the guides and the company agreed on the 'best' formula and it became a popular bait for channel catfish. Was it the best bait on the market? The answer depends upon who you ask but it is a very good bait that for years has accounted for many limits of catfish on many lakes.
Blue catfish will bite punch bait but serious 'blue catters' know that fresh cut bait is best. In Texas waters fresh shad is king for catching blues but in states to the north skipjack herring is the go to bait, especially in river systems where the baitfish are common.
Yes, a great deal has changed since I cut my catfishing teeth using set poles in the creek by my boyhood home and trotlines on small lakes in Oklahoma. With today's sonar, finding concentrations of fish is easy, especially when targeting big blues in the winter. And anyone can toss out a few range cubes and bring channel catfish under the boat. But one thing that has not changed is the tug of a hard fighting catfish or the flavor of a crispy catfish fillet or whole smaller fish that has been exposed to cornmeal and about 6 minutes in hot cooking oil!