Entertainment
Sky serpents over Fannin County?
Aug 16, 2022
Editor's note: August 15, 2022 in the 20th anniversary of North Texas e-News and this is one of our favorite articles from the past.
Bonham, Texas -- In 1969, the United States Air Force closed the book -- Project Blue Book, to be exact -- concerning its study of UFOs, stating that sightings were generated as a result of "a mild form of mass hysteria, Individuals who fabricate such reports to perpetrate a hoax or seek publicity, psychopathological persons, and misidentification of various conventional objects."
According to newspaper reports dating back more than 141 years and discovered by the staff at Bonham Public Library, all of the above maladies have been manifest right here in Fannin County.
No less than the
New York Times
on July 6, 1873, had a follow-up on a report apparently published in the
Bonham Enterprise
.
The very worst case of delirium tremens on record is one told by the

Bonham Texas Enterprise

which says that a few days ago a man residing five or six miles from that place "saw something resembling an enormous serpent floating in a cloud that was passing over his farm." Several parties of men and boys at work in the fields observed the same thing and were seriously frightened.
If it was written in a newspaper, it must be right. Well, maybe not this time.
Former Marine Corps aviator Donald E Keyhoe, one of the first writers to cash in on the UFO craze in the late 40s and early 50s, included another interesting tale from Fannin County in his book,
The flying saucers are real.
During the summer of 1873, residents of Bonham, Texas saw a fast moving object flying over the southwest section of town in broad daylight. The huge, cigar shaped object flew so rapidly that its shape was blurred. It swooped low over the town twice as citizens rushed into their homes, dove under wagons, and sought whatever shelter they could find. The object disappeared quickly to the east.

Twenty four hours after the sighting at Bonham, Soldiers on the parade field at Fort Scott, Kansas, about 350 miles to the northeast, were thrown into a panic as a similar object flashed over the grounds of the military post. It took only a few seconds to disappear to the north.
The late Dr. Tom Scott, former curator of Fannin County Museum of History, wrote a column, "Bois d'Arc Sketches," for a Bonham newspaper. Dr. Scott cited strange reports in the Bonham skies as far back as 1843 when the City of Bonham was still known as Bois d'Arc.
In March, 1897, a cigar-shaped object was seen in the area. That same month, a Dallas newspaper and others in the area reported the sighting of a cigar-shaped object between Honey Grove and Paris. A farmer had said he was chased by the object that was dragging an anchor along the ground. The farmer said the anchor snagged his pants and raised him into the air until his pants ripped and he fell. Two weeks later a man going between Bonham and Denison also said he saw "some kind of manufactured craft." Others who saw it said it was 200-feet long with large windows. Some people even said they heard hymns being sung as it passed overhead.
Sightings were also reported in Denison and other cities nearby.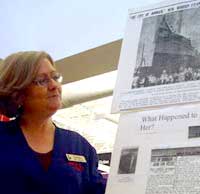 Barbara McCutcheon looks over an exhibit at Bonham Public Library.
Director of the Bonham Public Library Barbara McCutcheon said these reports surfaced when the library was tasked to find old newspaper articles detailing unexplained flying objects in Fannin County history, but she couldn't resist a little humor at sky serpents, flying cigars and farmers having their overalls snagged by UFOs dragging anchors.
"I wonder how
hot
it was back then?" Mrs. McCutcheon said with a smile.