Columnists
Democrats rumble in Dallas
Jul 19, 2022
"I am not a member of any organized political party.
I am a Democrat." -- Will Rogers
An intrepid group of Fannin County Democratic Delegates wended their way to the Dallas Convention Center to attend the largest Democratic State Convention in the United States this last weekend. It is believed that they all emerged alive.
More than 5000 statewide delegates caucused and cussed, debated and discussed, contested and quarreled, and eventually decided that their differences were far less important than fighting Republican dangers to our democracy and seizing the chance to do good for ALL Texans; not just the rich ones, not just the white ones, not just the men.
At a massive rally in downtown Dallas, Gubernatorial Candidate Beto O'Rourke introduced Fannin County Democratic Chair Bill Roberts and gave him a shout-out for "putting on that amazing rally in Bonham with wall-to-wall enthusiastic Democrats!" (Full disclosure: That Bill Roberts is your current blushing correspondent, as well.)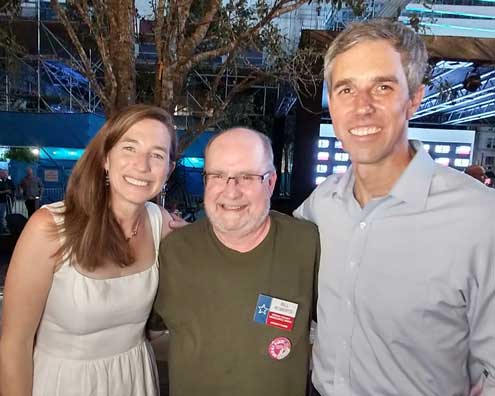 (L-R) Amy O'Rourke, Bill Roberts, Beto O'Rourke
Beto promised to work for a Texas with world-class schools, world-class jobs, and equal opportunity to vote for the representatives you choose, not the politicians that chose to gerrymander you.
Not a single Democratic candidate nor delegate ever suggested, however, that his or her religion should be forced upon his or her fellow citizens. Although, to be fair, Republicans aren't actually seeking to impose Christianity on the nation, either. What they are preaching bears absolutely no resemblance to what Jesus practiced.
Sam Rayburn, Fannin County's own "Mr. Democrat," was frequently referenced at the convention. As former State Chair Boyd Richie pointed out, when Republicans called Democratic policies to help American citizens "socialism," Speaker Sam responded, "That's not socialism, it's applied Christianity!"
As Mrs. Bob Slagle affirmed, her husband was known to be as Mr. Sam had often described himself: A Democrat "without prefix, without suffix, and without apology!"
Lieutenant Governor Candidate Mike Collier expressed his intention to campaign in Fannin County soon. He reminded delegates that the famous anti-slavery French philosopher Voltaire, who influenced the Founding Fathers to include freedom of speech and the separation of church and state in the U.S. Constitution, was lying on his deathbed when a priest insisted that Voltaire must denounce Satan before he died. "No," replied Voltaire, "This is no time for me to be making enemies."
Of course, Republican Supreme Court Justice Samuel Alito quoted seventeenth-century jurist Matthew Hale when Alito wrote the decision to strip women of their rights under Roe v. Wade. Unlike Voltaire, Mr. Hale believed in executing witches and allowing husbands to rape wives. Republicans like Justice Alito are not very funny.
Party leaders Wendy Davis and Colonel Kim Olson let it be known that the days of Democratic Women being "too nice" are over.
Candidates Iro Omere, Janet Dudding, and Rochelle Garza made it clear that Texas women like Ann Richards and Barbara Jordan are rising up, again.
Lucy Baines Johnson reminded delegates of the things that Democratic President LBJ and Lady Bird Johnson did, not only for Texas but the USA.
Texas Democratic Party State Chair Gilberto Hinojosa pointed out a decade of large and steady gains by the Texas Democratic Party in state and national elections, and the increasingly desperate efforts by Republicans to restrict the rights of all citizens to vote while wasting millions of Texas taxpayer dollars chasing the silly-pillow guy around looking for nonexistent voter fraud in Texas and other states.
It's becoming clear that Democrats are poised to turn Texas blue, and that Texas Democrats are determined to unite to do it in time!
In the end, camaraderie and fellowship won out, probably because Democrats spent more time looking for people to help rather than looking for people to hate.
And as was noted not long ago, Democratic President Barack Obama was not a dark-skinned, foreign-born socialist giving away free health care. That would be Jesus.