Lifestyles
Grupo Kache takes the stage at Vitruvian Salsa Festival on Aug. 6
Aug 6, 2022
Professional dancers give salsa lessons at from 6:30 to 7:00 p.m.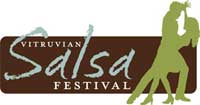 Addison, Texas -- Bring your dancing shoes to Vitruvian Park's amphitheater on Saturday, Aug. 6 for the Vitruvian Salsa Festival, featuring Grupo Kache from 6:00 p.m.-10:00 p.m. Admission is is FREE and parking is available for $10 (cash only).

Grab a date or invite your family and friends for a night out with a high-energy live band, additional music from DJ Colombiano, professional salsa lessons and some of the top local food trucks!

With a desire to combine traditional Latin flavor with modern rhythms, Grupo Kache has captured fans from its hometown of Houston and throughout the nation. The band, directed by Rudy Rincon for more than 20 years, plays rhythms such as merengue, salsa, cumbia, bachata, cha-cha, rumba, paso doble and romantic boleros, as well as new trends of Reggaeton, Latin pop and rock en Español.
Grupo Kache
Grupo Kache embraces its heritage and shares the spirit of a sound that has been passed from generation to generation.
WHEN: Saturday, Aug. 6 from 6-10 p.m.
*Salsa Lessons from 6:30-7 p.m.*
WHERE: Vitruvian Park
3966 Vitruvian Way
Addison, TX 75001
(West of Midway Road at Spring Valley Road)
PARKING: Event Parking is available for $10 (cash only) at:
Vitruvian Park: Bella Lane and Ponte Avenue parking lots
Alfred J. Loos Sports Complex: 3815 Spring Valley Road, Addison, TX 75001
In the event of inclement weather, Vitruvian Salsa Festival is subject to cancellation; parking is non-refundable.
DETAILS: These outdoor events are FREE and open to the public. For park FAQs and all event related updates, including cancellations and parking, please visit the Vitruvian Park website or follow Vitruvian Park on social media.