Columnists
Weddings without borders: few surprises when we expect the unexpected! Part 2
Jul 22, 2022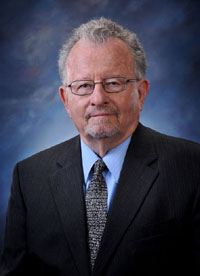 The request to marry a couple that gave me the most surprise (and little time to plan), came in a panicked, late-morning phone call from an employee in food services in what is today Motel 6 in Sherman.

She said with great anxiety: "Dr. Bucher, I knew you when I was with food services at Austin College, and I hope you can help in a big dilemma facing me and upsetting a couple who hoped to be married this afternoon."

She continued by explaining that she had put much money and effort into preparing a post-wedding feast; but the couple just informed her that the pastor had met with them. He asked to see their marriage license, but they had forgotten about that detail!

The pastor stood up and said: "No marriage license; no marriage;" and he left. "What can you do as Chaplain at Austin College?"-- her voice indicated desperation.

I replied that I could not change water into wine, but I could change embarrassment into a joyful ceremony and despair into hope! Fortunately, she did ask about my plan since I had none at that first moment. Over the phone, I asked her to have the couple meet with me an hour before the wedding in the motel. They were there ahead of me, and I started by asking basic information. Then I shared my 'plan'. The only thing for me to do legally in this situation that would avoid the embarrassment of all involved is to go on with the basic marriage liturgy; BUT, at the point where I would have said: "I now pronounce you husband and wife;" I say instead: "I will pronounce you husband and wife." In a few days I shall meet both of you with your marriage license and share some ideas and thoughts. Only the three of us will know that I had said "will" instead of "now."

The wedding and feast proceeded as planned. When I signed the license some days later, I said: "NOW I pronounce you man and wife. You now also have two wedding anniversaries to celebrate each year!"

######

The fourth wedding in my "Weddings without borders" series took place in Granada, Spain. My son and his Spanish wife had their civil marriage completed locally but wanted a religious ceremony where they could invite family and friends. They asked me to officiate, and I was eager to do so. The wedding was at sunset on a large outdoor patio of a private home on a hillside facing the Al Hambra Palace.* The sun shining on Al Hambra turned it more red than usual ("Hambra" in Arabic means red).

The Unity Candle part of the ceremony was remarkable. A large candle was centered between two smaller candles on a table in front of me. Both were unlit. I faced the celebrants with my back to Al Hambra. Clif lit one of the small ones and Sara the other. Then they used their lit candles to simultaneously light the Unity Candle. They placed the small candles back on the table still burning but seconds later the two small candles suddenly went out; but the Unity Candle remained burning! A very good omen, indeed.

At the reception, Clif's first question was: "Dad, how did you do it?" He was referring to the Unity Candle remaining lit while the small ones suddenly stopped burning. I replied that he probably was so focused on the importance and excitement of the event that he missed a brief and light gust of wind from behind me that would have extinguished all three candles, but my presence in the middle protected the Unity Candle which kept burning until the end of the ceremony!
---
*The Arabs conquered most of what is now Spain and Portugal in the 700s ACE. Al Hambra's construction began in 1238 and had gone through many stages. After the 'Reconquista' in 1492, Al Hambra became the Royal Court of Ferdinand and Isabella. (Wikipedia).