Lifestyles
'The Little Sit' at Hagerman National Wildlife Refuge Aug. 6
Aug 5, 2022
August 6, 2022, 6:00 a.m., Pad-H on the west side of Hagerman National Wildlife Refuge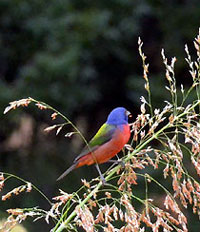 Hagerman National Wildlife Refuge -- If you want to learn how to identify the birds of North Texas, the "Little Sit" is the perfect way to start. Modeled after Cornell's "Big Sit," a group of dedicated birders meet once a month at the end of Pad H on the West side of Hagerman NWR. NOTE: The water crossing at Bennett Lane may be closed, Pad H may only be accessible via Route 901 in Sadler.

The bird-counters keep track of the number and species of birds that are observed and the data is entered into eBird each month. An expert "bird identifier" will be present at each Sit. The public is welcome to join us for the count--no experience is needed.

We meet on the first Monday or the first Saturday morning of each month-- alternating the day.

We begin 30 minutes before sunrise to watch the birds wake up and begin to feed. We usually stay out for 3-4 hours, but you are welcome for all or part of the Little Sit.

Dates for 2022: August 6, September 6, October 1, November 7

For more information, a map to Pad-H and to register to receive event updates (location changes, etc.) visit: www.friendsofhagerman.com/LittleSit or email: friendsofhagerman@gmail.com. GPS Coordinates to Pad-H: 33.734961, -96.780582

Free and open to the public, funded by donations.