Sports
Dan Bennett explains 'The Dynamics and Economic Importance of Fishing at Lake Texoma' Aug. 13
Aug 13, 2022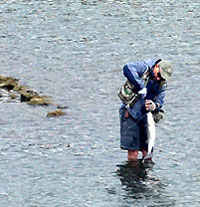 Hagerman National Wildlife Refuge -- On August 13, 2022, Second Saturday at Hagerman NWF will feature Dan Bennett explaining "The Dynamics and Economic Importance of Fishing at Lake Texoma."

Mr. Bennett has worked as a fisheries biologist for the Inland Fisheries Division of Texas Parks and Wildlife for fifteen years following the completion of a Masterís Degree in Aquatic Biology at Stephen F. Austin State University.

Bennett has served as the District Supervisor of the Denison District Fisheries Office located at Lake Texoma since 2016, where he focuses on sportfish management at the public reservoirs in an eight county region of North Texas.

Dan will discuss the results of angler surveys in 2019 and 2020 conducted by fisheries staff with Texas Parks and Wildlife and the Oklahoma Department of Wildlife Conservation. Surveys focused on estimating angler effort, the local economic impact, and the annual catch and harvest of sport fish from the reservoir.

Free and open to the public, funded by donations.