Local News
Bois d'Arc Lake Operations Center serves as a community classroom
Aug 10, 2022
Fannin County, Texas -- The Bois d'Arc Lake Operations Center hosted its first facility-wide event for nearly 75 local teachers and educators in partnership with Dodd City ISD at the end of June 2022. The school's Summer Professional Development Conference was held over two days, using all the center's indoor and outdoor classrooms, lobby and board room.

The building's location by Bois d'Arc Lake offered teachers a chance to see progress on North Texas' newest reservoir and provided a unique venue for their continuing education classes. North Texas Municipal Water District, which owns and operates the lake and center, encourages school groups and other Fannin County organizations to learn more about holding educational events in the new space.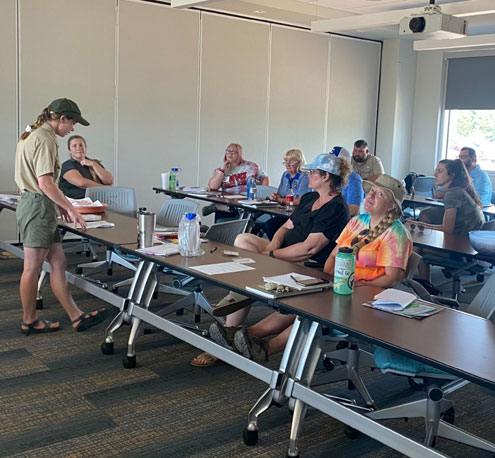 "The facility offers an unusual setting with plenty of opportunity to explore… it has gorgeous scenery and facilities," said Nathan Melson, high school STEM teacher and 6-12 Robotics Director/Coach.

Melson chaired the school's professional development conference committee. As a local and former education representative of the lake's watershed protection plan committee, he was familiar with the Lake Operations Center.

"Someone mentioned how cool would it be to have the school development conference down here," he said. "Our faculty and administration agreed. I reached out to Jennifer Stanley, Bois d'Arc Lake Operations Center Manager, and she organized everything for us so we could hold the event three months later."

The conference featured non-traditional continuing education classes with speakers from a variety of backgrounds, including the Texas Parks & Wildlife Department on water-related issues, the Texas Historical Commission about former U.S. House Speaker Sam Rayburn's home and library (in the area) and a local Beekeeping Club covering beekeeping science and pollinators. One archeologist/paleontologist presenter led an overwhelmingly popular fossil field trip in a nearby river bottom.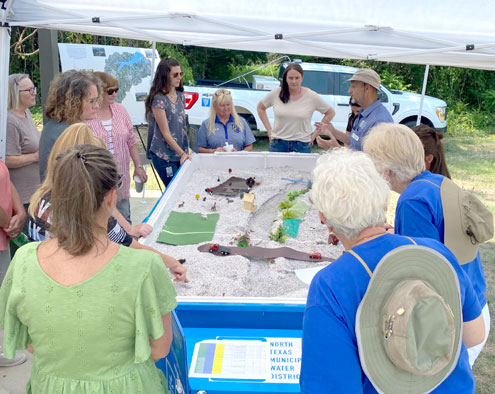 "It worked out really well," Melson said. "If there was anything we needed, Jennifer and her team were there to help. They helped out with our technology needs and assisted with the classroom labs. We've already requested to hold the conference at the center again next year and expand it to three days with additional classes and field trips. I definitely encourage others to use the space as well, including any of our local boards."

Fannin Bank has already done just that—hosting its board meeting at the facility in June.

For more information on scheduling an event at the Bois d'Arc Lake Operations Center, located on FM 897, call 469-626-4760. Read more about the center in this recent North Texas e-News story.