Obituaries
Barbara Baker Page
Aug 8, 2022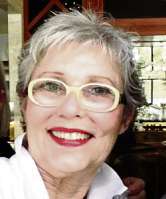 Dallas, Texas -- Barbara Baker Page was born in Honey Grove, Texas, on October 1, 1943, to Charles Word Baker and Joanna Alexander Baker. Barbara died in Dallas on July 30, 2022, following a valiant fight against various health challenges for several years.

Barbara was predeceased by her parents, her grandparents Dan and Maggie Baker and Tom and Cora Alexander, and her former husband, Khent H. Rowton, all of Honey Grove; and by her beloved daughter Maggie Rowton Keith of Portland, Oregon.

Surviving Barbara are her beloved husband Jon Page, Dallas; her son Philip Rowton (Sherri) and grandsons Baker and Joullian Baker, Auburn, Alabama; her precious grandson Charlie Keith and his father Martin Keith, Portland, Oregon; her sisters Betsy Baker, Richardson, Texas, and Lucy Baker Acker (Robert), Brooklyn, New York; and Jon's three children and seven grandchildren.

The Baker girls spent their early years in Austin, El Paso, Auburn, and other university cities where their father Word taught drama. Ultimately, Word's career took the family to New York City where Word directed The Fantasticks, the longest running musical in New York history. Barbara's parents provided her a unique view of iconic stars during a fabulous era of glamour on the American stage. From these experiences, Barbara developed a life-long love of the stage, and she shared these experiences with family members and friends through her superb ability to recount such history.

During these travels, the Baker girls would spend their summers in Honey Grove with their grandparents and various cousins, all who resided on Poplar Street. For the dozen other children within this four-block area, the Baker girls shared the excitement and color of Broadway and brought the latest trends in music, dance, games, clothes, and slang from the Big Apple to the quiet of Honey Grove. From mid-morning to early evening, some or all these children would be playing along Poplar Street. It was great to grow-up in the 1950s in small town America!

Both Barbara and her sister Betsy returned to Texas to attend East Texas State University, now TAMU – Commerce, and remained in Texas the remainder of their lives. Barbara became an integral member of the Class of 1961 of HGHS and attended its class reunions until her health prevented her participation.

For over four decades, Barbara and her loving husband Jon were a team raising their blended family of five children. Barbara was very much a citizen of Dallas and participated as a member of The Junior League of Dallas, The Dallas Woman's Club, The Dallas Garden Club, Forget-Me-Not Garden Club, Dallas Theater Center Board, and many other organizations which supported the arts.

Barbara was passionate about her husband and children; the arts; and her beloved set of friends.

Barbara was dynamic, strong, talented, and vivacious. She was a great speaker and did not mind sharing her opinion. Barbara was also kind, a good listener, and a faithful advocate for those she loved – truly a force of life who will be sorely missed!

A memorial service will be scheduled this fall.