Sports
White River fishing report by Cotter Trout Dock
Aug 15, 2022
Cotter, Arkansas -- The White River water clarity flowing from Bull Shoals Lake past Cotter on its way south toward the Mississippi River is exceptional. The clear, cold water released through Bull Shoals Dam keeps the river habitat perfect for the trout provided by the Arkansas Game & Fish trout program all year long. We are continuing to see a fair amount of fluctuation in releases from the dam as it completes its work supplying electrical power and continuing to lower the lake to desired power pool. Bull Shoals Lake is currently just five feet above power pool, sitting at 666.30.
One way we've lured those trout away from their perfect habitat this week was with the peach-and-brown or olive, moss green jigs (1/8 ounce) played over the shoals. They provided a rapid and steady interest from the rainbows. The sculpin made a come-back when the water dropped and uncovered so many. It's good to see the prevailing food source, especially since the brown trout and larger rainbows love to make a meal of sculpins. As we mentioned last week, the grasshopper is back for the season. A hopper fly for late afternoons on these hot, dry summer days should provide action to last until dark.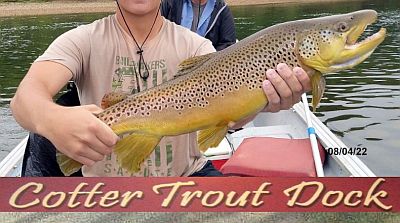 Sometimes it's nice to just drift slowly down river, trailing a little piece of shrimp or a worm and catch lots of rainbows. Works every time and it's a great way to spend a lazy summer day. No race, no competition and best of all, no stress. Just a slow, easy drift. You might just find that's the time when the fish of a lifetime comes along. But trophy or no, a day on the river is a gift. We welcome you to our Natural State. Come and enjoy the river.