Sports
Dodd City Lady Hornets win Detroit Volleyball Tournament
Aug 14, 2022
Detroit, Texas -- The Dodd City Lady Hornets defeated Trinity Christian Academy and the host Detroit Lady Eagles on Saturday to bring home the championship trophy from the 2022 Detroit Volleyball Tournament.
Dodd City junior Hannah Burney led the way with four kills in the first match as the Lady Hornets swept Trinity Christian Academy, 25-20 and 25-19.
Camryn McCarley and Kadyn McCarley both had three kills, Lindsey Mauppin put down a pair of kills, while Addyson Chaney, Autumn Brown and Breezy Jenkins each had one kill. Brianna Rodriguez handed out 13 assists and Addison Weeks had an ace and four digs.
In the title match against Detroit, it was Kadyn McCarley's eight kills leading an attack that also featured five kills by Camryn McCarley, three kills by Addison Weeks, as well as one kill by Lindsey Mauppin and Addyson Chaney.
Dodd City and Detroit split the first two sets before the Lady Hornets finished strong with a 25-13 victory in the third set to win the tournament.
Brianna Rodriguez dished out 18 assists to her Lady Hornet hitters.
Hannah Burney was a force at the net with two blocks.
Dodd City (5-1) will travel to Detroit again on Tuesday for a match.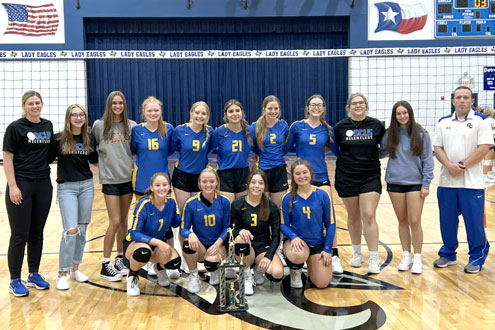 Dodd City Lady Hornets - 2022 Detroit Volleyball Tournament champions
DC stats:
DC vs. Trinity Christian Academy
Set 1: 25-20 DC
Set : 25-19 DC
#2 Kadyn McCarley- 3 kills; 1 dig; 1 block
#3 Addyson Chaney- 1 kill; 3 aces; 6 digs; 1 assist
#4 Brianna Rodriguez- 1 dig; 13 assists
#5 Camryn McCarley- 3 kills; 3 aces; 1 block
#7 Addison Weeks- 1 ace; 4 digs
#9 Hannah Burney- 4 kills
#10 Lindsey Mauppin- 2 kills; 2 aces; 1 dig; 1 block
#16 Autumn Brown- 1 kill; 1 ace; 1 dig
#21 Breezy Jenkins- 1 kill

vs Detroit (Championship Game)
Set 1: 25-14 DC
Set 2: 25-20 Detroit
Set 3: 25-13 DC

#2 Kadyn McCarley- 8 kills; 3 aces
#3 Addyson Chaney- 1 kill; 5 digs; 1 assist
#4 Brianna Rodriguez- 3 aces; 4 digs; 18 assists
#5 Camryn McCarley- 5 kills; 1 ace; 2 blocks
#7 Addison Weeks- 3 kills; 1 ace; 2 digs; 1 block; 1 assist
#9 Hannah Burney- 2 blocks
#10 Lindsey Mauppin- 1 kill; 3 aces; 1 dig