Local News
First Presbyterian Church Sesquicentennial Celebration Aug. 21
Aug 21, 2022
Bonham, Texas -- First Presbyterian Church Bonham will be celebrating 150 years of ministry at 10:00 a.m. on Sunday, August 21. We hope you will make plans to join us for an extra special time of worship and fellowship to celebrate this significant milestone in our church's history.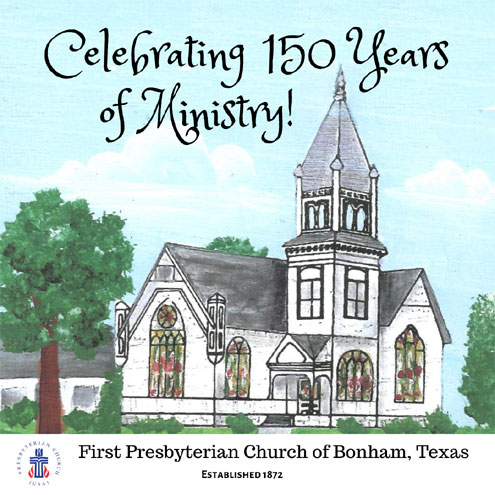 Our Sesquicentennial Committee is reaching out to previous pastors and members to invite them to attend. Lunch catered by Roma's will follow worship, and it is important we get a good headcount of how many to expect. Please RSVP by answering this three question survey: https://forms.gle/5r2QCXxJ7C3WMJc96 or by calling the church office at (903) 583-2014 no later than Monday, August 15.
The Sesquicentennial Committee would like to capture as many church memories as possible! Please click on the following link and answer questions such as "Tell us your favorite church memory" or "Why is this church special to you? https://forms.gle/UHi251wMhPFgSVZV7
Please note that any written memories, videos or photos that are submitted may be posted on our church's social media pages or website, included in newsletters or emails, etc.