Lifestyles
Easter Egg Rolls at the Eisenhower Birthplace!
Apr 1, 2023
It's time for the Eisenhower Birthplace State Historic Site's Annual Easter Egg Roll! President Dwight Eisenhower and First Lady Mamie Eisenhower revived the Easter Egg Roll tradition at the White House in 1953 and our free event features Easter Egg Roll races! The Easter Egg Roll will take place on Saturday, April 1 starting at 10:00 a.m.
Activities and crafts will also be available from 10:00 a.m. until 1:00 p.m. Crafts include egg ornaments, bumble bee pencil toppers, colorful butterfly decorations, and more. Crafts are suitable for children ages 4 and up with adult supervision. We will also hold Easter Egg Scrambles for our tiniest visitors and those under the age of 10 at 11:00 a.m. (NOTE: candy and toys in eggs not appropriate for children under 3). The Easter Bunny will make an appearance.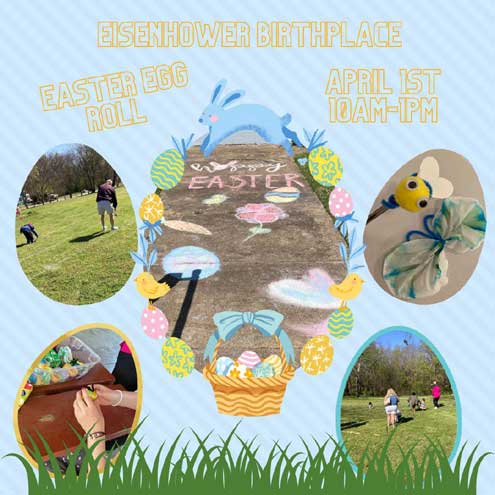 Easter Egg rolling on the White House lawn began in 1878 under the Rutherford B. Hayes administration and continued yearly until World War l, when national food rationing viewed the roll as wasteful. Revived during the Roaring Twenties and the Great Depression, rationing during World War II once again put a stop to the egg-vent. Renovations to the White House during the Truman administration also broke the tradition, but by the time Dwight D. "Ike" Eisenhower became president in 1952, the White House lawn opened once again for the ovoid race. Ike's connection to Denison made the Eisenhower Birthplace State Historic Site a natural place to bring this fun tradition to North Texas.
Don't forget to take a tour of the home where Eisenhower was born in 1890, right in the heart of Denison (tours on the hour, admission charged). The Eisenhower Birthplace is located at 609 S. Lamar Avenue in Denison. Please call 903.465.8908 or go to www.visiteisenhowerbirthplace.com for additional information.
The Eisenhower Birthplace State Historic Site, a Texas Historical Commission property located in Denison, features the modest house where the 34th U.S. President Dwight David "Ike" Eisenhower was born in 1890. Period furnishings fill the modest frame house, illustrating the Eisenhower family's working-class life in the railroad town of Denison. The Visitors Center celebrates Ike with memorabilia and exhibits featuring his many accomplishments as president and war hero and tells the story of how the community preserved Eisenhower's birthplace in the 1940s and 1950s.