Lifestyles
Hwy 82 / 287 Yard Sale June 2-3
Jun 3, 2023
Bonham, Texas -- We are excited to participate with the Red River Valley Tourism Association of Texas and Oklahoma, Annual Hwy 82/287 Yard Sale! June 2-3!
Over 400 miles of treasure hunting & town hopping!
HOW IT WORKS: Participating towns will have maps available guiding shoppers to the special sales sites throughout their communities. Some towns will have yard sales set up at a central location, or spread throughout the town. Still others will showcase their downtown merchants or their flea markets/trade days/farmers markets. Maps will be available at the Bonham Visitors Center!
FUN FOR THE ENTIRE FAMILY: Make plans now to travel through the Red River Valley region of Texas for the US HWY 82/287 Yard Sale. You'll discover fun for the whole family…. from heritage homes to historic downtowns, from art to antiques, from cattle trails to cultural facilities.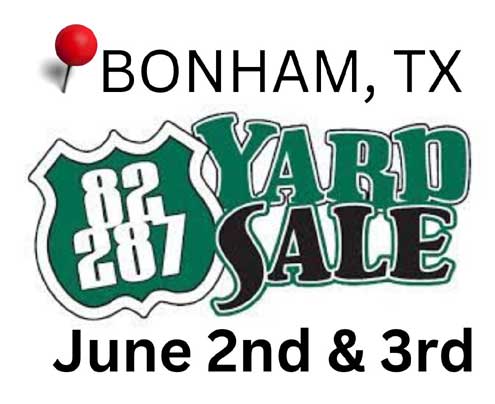 FOR MORE INFO & HOW TO GET REGISTERED:
Have a yard/garage sale at home
Non profit organization/fundraiser opportunity
Have your Business do a side walk sale
Free advertising!
You sign up, show up, set up & sell: Get your address listed on map for no cost! Must sign up with the Bonham Visitors Center by noon on 5/26/23 to be included on the Bonham Map!
Maps available to pick up at the Bonham Visitors Center.

Please contact the Bonham Visitors Center at
903-583-9830
info@visitbonham.com
327 N. Main St. Bonham, Texas 75418