Local News
United Pacific Industries opens new 279k SF operations base in business-friendly McKinney
May 21, 2023
Design-build project at Core5 Logistics Center
located in desirable North Texas industrial market
McKinney, Texas – (May 16, 2023) – United Pacific Industries (UPI), an international firm that designs and manufactures automotive products for commercial trucks and classic cars, is opening a new location in the Core5 Logistics Center in McKinney, Texas, as an additional base of operations to meet robust growth and operational needs.
Dallas-based Citadel Partners, a corporate tenant real estate advisory firm, brokered the sale of the 279,180-square-foot facility at 3827 N. McDonald St. The design-build project for UPI sits on 16 acres off State Highway 5 between Wilmeth and Bloomdale roads.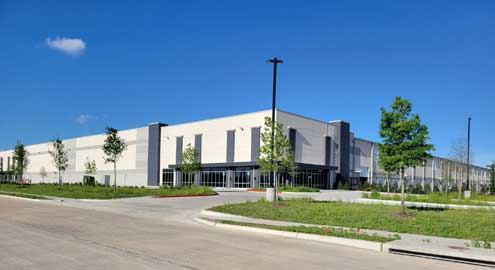 Core5 Logistics Center, photo courtesy of Citadel Partners
Citadel Partners' Managing Partner Scott Jessen and Market Principal Andy Goldston represented the seller, Atlanta-based Core5 Industrial Partners. Dan Spika, Principal and Executive Vice President at Henry S. Miller Companies, represented UPI.
"UPI saw the appeal of the Dallas-Fort Worth metroplex as a base of operations," Jessen said. "This design-build project is one of the first cross-dock buildings of this size built in McKinney during this cycle to serve a growing tenant base. Most industrial users didn't consider this market before. There were smaller projects under 50,000 square feet. Core5 has demonstrated that McKinney is a great place to be with a strong talent base and corporate tax incentives that make it an attractive option to meet UPI's evolving business goals."
Logistically, McKinney is ideally suited to support the warehousing and freight needs of UPI, which supplies its USA-assembled parts and accessories to high-profile customers such as Freightliner, Kenworth, Peterbilt and Volvo. The Core5 Logistics Center offers rear-load configurations, cross-docking options, 32-foot clear height to help UPI streamline its warehouse operations, as well as convenient access to nearby airports and key traveling corridors such as State Highway 121, U.S. Highway 75 and U.S. Highway 380.
"We scoured North Texas searching for a strong location for UPI and this turned out to be the best location just off U.S. Highway 75. In the last three to four years, there have been 300+ companies that have moved to the Dallas area from the West Coast. It's a lot easier to do business here than in California. There is a lot of land here and we are just a three-hour flight to either coast," said Spika.
McKinney is one of Dallas-Fort Worth's hottest markets for relocations and expansions, according to McKinney Economic Development Corporation (MEDC) Director of Business Retention and Workforce Development Madison Clark. Local, state and federal incentives as well as a business-friendly regulatory atmosphere are driving economic development in this rapidly growing Dallas suburb.
In recent years, MEDC and Citadel Partners have collaborated closely on the development of the Core5 Logistics Center and other industrial spaces. "Core5 is a groundbreaker in McKinney," Goldston said. "We saw opportunities in this market that made it an ideal location for Core5 to build; this project was really the tip of the spear and now we are seeing the market get much more serious consideration from other larger users."
"MEDC has had a great relationship working with Citadel Partners. Scott Jessen and Andy Goldston have provided valuable insights on what prospective tenants are seeking in our region," Clark added. "Until about five years ago, McKinney was significantly underserved in having industrial inventory available on the market. Citadel was one of our frontrunners in bringing development prospects to the table; from a recruitment standpoint, this has been helpful in attracting new businesses like UPI to the area."
In addition, the real estate advisors at Citadel Partners have connected MEDC with local industry experts to help the nonprofit organization navigate the nuances of development-related impacts.
UPI plans to move into its new headquarters at the Core5 Logistics Center in the second quarter of 2023.