Lifestyles
Belly Dance Basics returns to the Creative Arts Center this June with Drills & Props Series
Jun 1, 2023
Bonham, Texas -- On Thursday June 1, Belly Dance Basics with Michelle returns to the Creative Arts Center for the taste of belly dance you've been looking for! During this 4 week series, students meet at 6:00 p.m. to practice Belly Dance Drills. We will work through a sampler platter of belly dance moves and work up a sweat. If you're new to belly dance, this will be an introduction to basic moves. If you've taken classes before, this will be a chance to hone your technique with lots of repetition.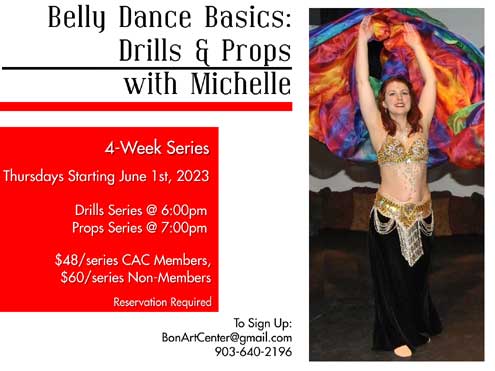 Practice makes perfect and is also a great workout, so come show your skill or simply "follow the bouncing butt" to some uplifting beats. Each class will be a stand alone workout, so jump in and dance! Comfortable shoes, leggings or yoga pants and tanks or T-shirts are welcome. Come shimmy with us!
At 7:00 p.m., Michelle leads students in an introduction of a variety of props. If you've ever wondered, "How does she do that?" this class will teach you the secrets. From zills and veils to skirts and swords, we'll take a peek into each belly dance prop and learn the do's and don'ts to get you started. Bring your own if you have one, or just let us know if you need to borrow!
These are low impact classes suitable for all body types, and all levels are welcome to join us as we create art through movement. Each 4 week series, Drills and Props, is offered separately at $48 for members of the Creative Arts Center, or $60 series for Non-Members; discounts are available for those who wish to attend both 6pm and 7pm classes. Reservations are required; RSVP to BonArtCenter@gmail.com or 903-640-2196.