Local News
Dallas-Fort Worth National Cemetery hosts Memorial Day Ceremony
May 29, 2023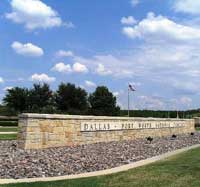 Dallas, Texas -- The Dallas-Fort Worth National Cemetery will host a solemn Memorial Day event Monday, May 29, at 11:00 a.m., with a wreath laying ceremony, accompanied by speeches, a moment of silence, and the playing of "Taps."

The keynote speaker will be Major General James L. Williams, USMC, Retired. Music provided by U.S. Army 1st Cavalry Division Band and Midlothian High School Choir. The ceremony will also feature the Second Battalion, 14th Marines, Marine Aircraft Group 41 Color Guard and 457th Fighter Squadron.

Parking within the cemetery will be limited.

Please arrive early at The Potterís House and utilize the free shuttle service. Buses will run from 8:00 a.m. to 10:30 a.m. Return service will begin after the program is over.

When parking within the cemetery has reached capacity for traffic flow and becomes a safety concern; all traffic will be directed to Shuttle Service Parking at The Potterís House.

Guests are encouraged to bring lawn chairs. Bottled water will be provided.

Dallas-Fort Worth National Cemetery is located at 2000 Mountain Creek Parkway, Dallas, TX 75211.

Located in Dallas, the 638-acre Dallas Fort Worth National Cemetery opened in 2000. Since that time, the cemetery has conducted more than 81,000 interments of Veterans and eligible dependents.

Burial in a VA national cemetery is open to all members of the armed forces and Veterans who have met minimum active-duty service requirements, as applicable by law and were discharged under conditions other than dishonorable. Members of the reserve components of the armed forces who die while on active duty under certain circumstances or who die while on training duty are also eligible for burial, as are service members and former service members who were eligible for retired pay at the time of their death. Spouses, minor children and, under certain conditions, dependent unmarried adult children are also eligible for burial even if they predecease the Veteran.

VA offers a new way to pay tribute to Veterans on the Veterans Legacy Memorial (VLM) website. The site, originally launched in 2019, contains a memorial page for each Veteran and service member interred in a VA national cemetery. The online tribute allows visitors to voice memories and appreciation for a Veteranís service. All comments will be reviewed for appropriateness prior to being posted.

For more information, call 800-535-1117 or visit www.cem.va.gov.