Lifestyles
Creedence Clearwater Revival tribute band at Powder Creek Pavilion May 27
May 27, 2023
Bonham, Texas -- Bad Moon Rising is a Creedence Clearwater Revival tribute band that was formed in 2008. The band consists of Steve Combs (lead guitar, lead vocals, harmonica, keys), Chris Combs (rhythm guitar, dobro, keyboard, vocals), Jason Akers (bass guitar), and Thomas Chaney (drums).
Bad Moon Rising has been performing all over the United States, and they have a reputation for being one of the best Creedence Clearwater Revival tribute bands around. The band members are all passionate about Creedence Clearwater Revival's music, and they put on a high-energy show that will get you singing along to all of your favorite CCR songs.
If you're a fan of Creedence Clearwater Revival, then you won't want to miss Bad Moon Rising. The band is playing at the Powder Creek Pavilion in Bonham, Texas on Saturday, May 27 Tickets are $10 at the gate or online.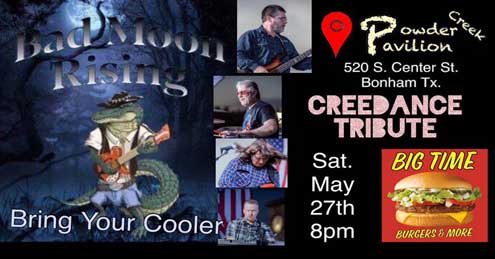 Here are some additional details about the event:
* Gates open at 6:00 p.m.
* Show starts at 8:00 p.m.
* All tickets are general admission.
* Children under 13 are free.
* You are allowed to bring in your own cooler, but you must be 21 to consume adult beverages.
I hope to see you there!