Lifestyles
Texas Superstar Plant Program
May 23, 2023
The Texas SuperStar Plant Program provides an excellent source for thoroughly researched plants of all types that are suitable to North Texas.
First, a bit of background:
*The need for the program was identified in the early 1970s and 80s when most plants recommended for our area, and most of Texas, were more suitable for northern climates or Europe.
*Texas needed plants that could survive our weather extremes – from heat to prolonged drought to heavy rainfalls.
*Texas needed plants that could grow in a variety of soils and pH ranges.
*In addition, many plants that did perform well in Texas landscapes were not readily available in the trade or in sufficient numbers to meet consumer demand.
Program development
As a result, a partnership was formed through the Texas A&M Research and Extension offices and San Antonio nurserymen. Several growers in the San Antonio area grew and researched the plants in the beginning stages of program development.
The program began with the Texas Bluebonnet, Lupinus texensis in 1989, and has grown into more than 88 perennials, annuals, fruits, vegetables, and specialty plants. Each one is trialed across various Texas locations using the Earth-Kind system combining the best principles of traditional/conventional and natural/organic gardening and landscaping practices.
Qualities of SuperStars
Some of the many qualities of any SuperStar plant include an overall attractive appearance, must appeal to the average homeowner regardless of their gardening expertise, and be as pest resistant as possible (deer proof is a bonus)! The plant should be attractive enough in its sales container that it "sells itself" to consumers who have never heard of the attributes of the plant.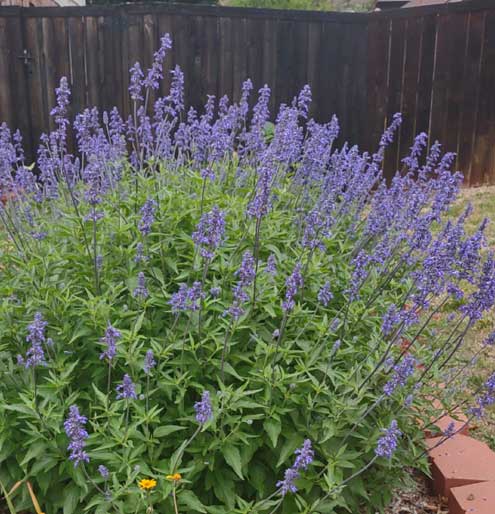 Henry Duelberg Salvia - photo by Karen Gibson
Texas SuperStar labels include educational and cultural information to ensure proper plant care by the consumer. If there are any limitations, those will be mentioned also.
The following is a short list of plants from each category that have proven to be successful in our area. For more detailed information and the entire plant list, refer to the official Texas Superstar website, http://texassuperstar.com/index.html.
Annuals:
Vinca "Cora" Series periwinkle
Tidal Wave Petunia
Whopper Begonias
Perennials:
Henry Duelberg Salvia
New Gold Lantana
John Fannick Perennial Phlox
Woody Shrubs:
Belinda's Dream Rose
Lynn's Legacy Cenizo
'Blue Angel' Shrub Althea
Trees:
Lacey Oak
Possum Haw Deciduous Holly
Basham's Party Pink Crapemyrtle
Specialty Plants:
Arctic Frost Mandarin Hybrid
'Balsamic Blooms' Basil
'Dwarf Cherry Surprise' or BHN 968 Tomato
Purple Flash Ornamental Pepper
'Green Magic' Broccoli
Texas SuperStar is a registered trademark owned by Texas A&M AgriLife Research. Texas SuperStar plants are selected by the Texas Superstar executive board, consisting of nine horticulturists from AgriLife Research, AgriLife Extension and Texas Tech University.
Do your own research and look for Texas SuperStar plants to try in your own garden this year!
Happy Gardening!