Local News
First United Bank Plano Parkwood celebrates grand opening and $50,000 donation to Make-A-Wish Foundation
May 23, 2023
Plano, TX – First United Bank Plano Parkwood celebrated a momentous occasion on April 19, 2023, with the relocation of First United Mortgage Group and the grand opening of First United Bank in Plano, Texas into a newly constructed 4 story 120,000 square foot building. The event was attended by over 300 guests, including esteemed local dignitaries, such as Plano City Council Members Rick Grady and Julie Holmer.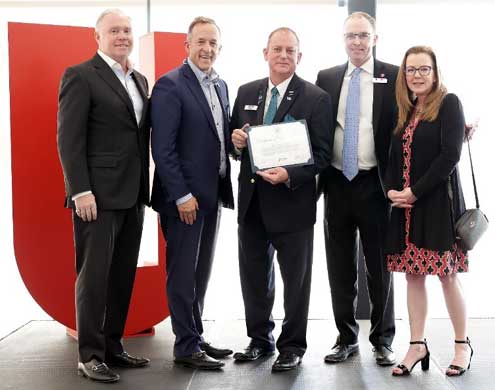 Greg Massey, Chairman and CEO of First United Bank, shared the organization's inspiring vision to elevate 10 million lives by 2023 through love and impact, emphasizing their commitment to serving the community. First United Mortgage Group, led by Mark Dawson, presented a generous $50,000 donation to the Make-A-Wish Foundation, reinforcing the organization's dedication to philanthropic efforts.
"Our celebration in Plano was more than just the relocation of our mortgage group and the grand opening of our bank. It marked a significant milestone in our commitment to the communities we serve," said Greg Massey. "We are proud of our unwavering dedication to changing lives through love and impact, and we were truly honored to share this momentous occasion with our valued stakeholders and guests."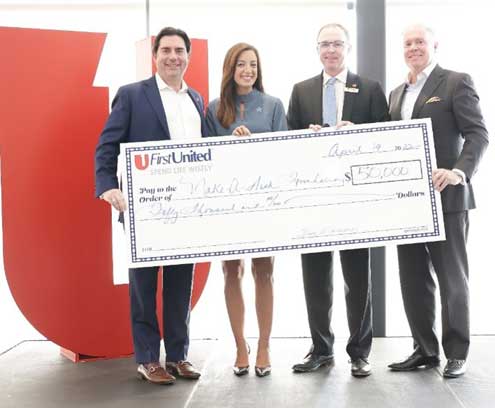 Justin Krebbs, Market President of First United Bank Plano, emphasized the bank's commitment to Plano, and appreciation for how welcoming community members have been to First United Bank. "I can't think of a better place to do business than Plano, Texas. We are excited to partner with the many great organizations in Plano providing resources to the community," said Krebbs.
The event also highlighted First United's strategic partnerships with prestigious business organizations, such as the Plano Chamber of Commerce, Metrocrest Chamber of Commerce, US Chinese Chamber of Commerce, and the Collin County Black Chamber of Commerce. Each chamber was recognized with a ribbon cutting, highlighting First United's commitment to supporting and engaging with local businesses.
With the grand opening of First United Bank Plano Parkwood, the organization has achieved a significant milestone in its growth and expansion in Texas. First United's unwavering dedication to providing exceptional financial services while giving back to the community has positioned them as a leading financial institution in the region, and they look forward to serving the people of Plano and the surrounding areas.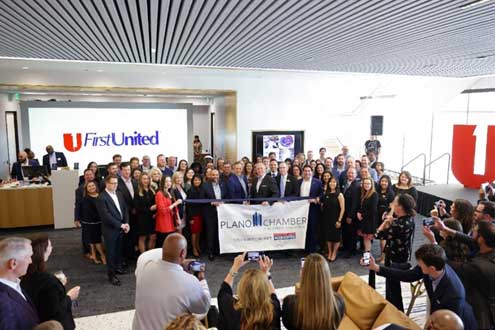 About First United Bank
Established in 1900, First United has over 95 bank, mortgage, and insurance locations throughout Oklahoma and Texas. It is one of the largest, well-capitalized banking organizations in the Southwest, with assets of more than $14.5 billion. It is among the largest privately held community banking organizations in the U.S. First United provides a full range of financial services, including banking, mortgage, insurance, and investment products and services, and is dedicated to inspiring and empowering others to Spend Life Wisely®. Learn more at firstunitedbank.com.