Local News
Governor Abbott lowers flags, calls for statewide moment of silence on anniversary Of Robb Elementary School shooting
May 24, 2023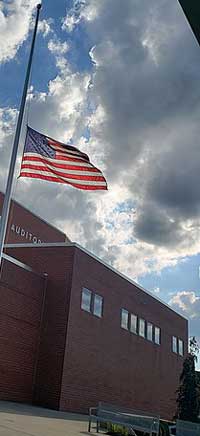 Austin, Texas – Texas Governor Greg Abbott today ordered Texas flags across the state be lowered to half-staff tomorrow and issued a statewide call for Texans to take part in a moment of silence at 11:30 a.m. CT in memory of the victims, survivors, families, loved ones, and entire Uvalde community on the one-year anniversary of the shooting at Robb Elementary School. Flags should remain at half-staff through sunset on Wednesday, May 24, 2023.

"One year ago, the Uvalde community and the entire state of Texas were devastated to our core by the tragedy at Robb Elementary School," said Governor Abbott. "Our hearts remain with the families and members of the community, with whom Cecilia and I met in the weeks and months after as they grieved and began their journeys of healing. As we lower Texas flags today in remembrance, I ask all Texans to join Cecilia and me in a moment of silence in honor of those who lost their lives, the families who lost a loved one, the survivors who are forever changed, and the entire Uvalde community as they continue to heal. May we also remember that Texans, uniting in our darkest days, will rise above to forge a brighter path forward."

Read the Governor's letter ordering Texas flags to half-staff.