Entertainment
Remembering Charlie Christian
Mar 3, 2022
Bonham, Texas -- How do you get to Carnegie Hall?
Well, you practice, practice, practice.
In the case of Bonham native Charlie Christian, how did he get from a poor part of town down by the railroad tracks known as Tank Town to Carnegie Hall?
You can't get there from here, or at least it is a journey that can't be measured in miles.
Bonham native Charlie Christian (Charles Henry Christian) (29 July 1916 – 2 March 1942) was an American swing and bebop jazz guitarist. Christian was an important early performer on the electric guitar, and is cited as a key figure in the development of bebop.
In the liner notes to the 1972 Columbia album Solo Flight: The Genius of Charlie Christian, Gene Lees writes that "many critics and musicians consider that Christian was one of the founding fathers of bebop, or if not that, at least a precursor to it."
In 1939, Charlie auditioned for record producer John Hammond, who recommended Christian to bandleader Benny Goodman. Goodman was the first white bandleader to feature black musicians — he hired Fletcher Henderson as arranger and Teddy Wilson on piano in 1935, and in 1936 added Lionel Hampton on vibraphone. Goodman hired Christian to play with the newly formed Goodman Sextet in 1939. It has been often stated that Goodman was initially uninterested in hiring Christian because electric guitar was a relatively new instrument.
Goodman had been exposed to the instrument with Floyd Smith and Leonard Ware among others, none of whom had the ability of Charlie Christian. There is a report of Goodman unsuccessfully trying to buy out Floyd Smith's contract from Andy Kirk. However, Goodman was so impressed by Christian's playing that he hired him instead. There are several versions of the first meeting of Christian and Goodman on August 16, 1939.
Suffice to say the encounter that afternoon at the recording studio had not gone well. Charlie recalled in a 1940 Metronome magazine article, "I guess neither one of us liked what I played," but Hammond decided to try again. Without consulting Goodman, Hammond installed Christian on the bandstand for that night's set at the Victor Hugo restaurant in Los Angeles.
Displeased at the surprise, Goodman called for "Rose Room," a tune he assumed that Christian would be unfamiliar with. Unknown to Goodman, Charlie had been reared on the tune, and he came in with his solo — which was to be the first of about twenty, all of them different, all unlike anything Goodman had heard before. That version of "Rose Room" lasted forty minutes; by its end, Christian was in the band.
By 1939 there had already been electric guitar soloists—Leonard Ware, George Barnes, trombonist/composer ("Topsy") Eddie Durham had recorded with Count Basie's Kansas City Six, Floyd Smith recorded "Floyd's Guitar Blues" with Andy Kirk in March 1939, using an amplified lap steel guitar, and Texas Swing pioneer Eldon Shamblin was using amplified electric guitar with Bob Wills. However, Charlie Christian was the first great soloist on the amplified guitar.
In early 1941, Christian resumed his hectic lifestyle, heading to Harlem for late-night jam sessions after finishing gigs with the Goodman Sextet and Orchestra in New York City. In June 1941 he was admitted to Seaview, a sanitarium on Staten Island in New York City. He was reported to be making progress, and Down Beat magazine reported in February 1942 that he and Cootie Williams were starting a band. After a visit that same month to the hospital by tap dancer and drummer Marion Joseph "Taps" Miller, Christian declined in health and died March 2, 1942. He was buried in an unmarked grave in Bonham, Texas, and a Texas State Historical Marker and headstone were placed in Gates Hill Cemetery in 1994.

Christian paved the way for the modern electric guitar sound that was followed by other pioneers, including T-Bone Walker, Les Paul, Grant Green, Kenny Burrell, Wes Montgomery, B.B. King, Chuck Berry and Jimi Hendrix. For this reason Christian was inducted in 1990 into the Rock and Roll Hall of Fame as an "Early Influence."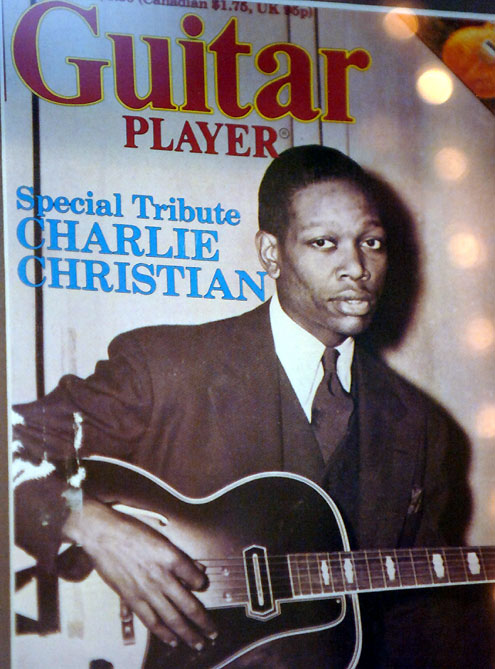 Christian's exposure was so great in the brief period he played with Goodman that he influenced not only guitarists, but other musicians as well. The influence he had on "Dizzy" Gillespie, Charlie Parker, Thelonious Monk and Don Byas can be heard on their early "bop" recordings "Blue'n Boogie" and "Salt Peanuts." Other musicians, such as trumpeter Miles Davis, cite Christian as an early influence. Indeed, Christian's "new" sound influenced jazz as a whole. He reigned supreme in the jazz guitar polls up to two years after his death.