Front Page
Bonham, Texas and Saluda, South Carolina share link to Battle of the Alamo: part 2
Mar 8, 2015
They have a saying in Saluda County, South Carolina: "This is where Texas began."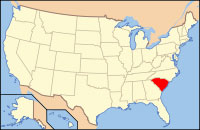 A bold statement, no doubt, but, as it turns out, our friends in Saluda County have two very good reasons to make that claim. Lt. Col. William Barrett Travis and James Butler Bonham were both from an area that is now Saluda County. Col. Travis was co-commander of the Alamo and, when it became obvious that more men would be needed to defend the old Spanish mission, Travis asked Bonham to slip through enemy lines and search for reinforcements. According to the Handbook of Texas, Travis and Bonham were second cousins.

If you think no people on earth could treasure the sacrifice made at the Alamo more than today's Texans, you've never been to Saluda County, South Carolina.

"Remember the Alamo" was one of the battle cries of the furious Texians that General Sam Houston unleashed on Santa Anna's napping Mexican Army in the battle of San Jacinto. As a result of a cunning battle plan, the decisive battle of the Texas Revolution only lasted 18 minutes.
The Texian revolutionaries were actually spurred on by two battle cries: "Remember the Alamo" and "Remember Goliad."
James Butler Bonham died defending the Alamo; a little town known as Bois d'Arc, Texas would later be named Bonham in his honor. Once the Alamo fell March 6, 1836, a large portion of the Mexican Army then captured Texas forces at Goliad, disarmed the 350 soldiers and, under orders from Santa Anna, slaughtered the prisoners of war on Palm Sunday. The Texian forces at Goliad were under the command of Colonel James Fannin; Fannin County, Texas, as well as Fannin County, Georgia, were named in his honor.
Saluda historian Bertha Herlong Ph.D provides the following details about James Butler Bonham:
In 1769 Jacob Smith moved from Virginia to South Carolina, where he got a 200-acre grant on "Richland Swamp"-- along Richland Creek. He married Sarah Butler, a sister to the James Butler, Sr. and aunt of James Butler, Jr., both killed in the Cloud's Creek Massacre during the Revolutionary War.

Jacob and Sarah Butler Smith were the parents of Sophia Smith, who married James Bonham. James Bonham had come to the coast of South Carolina from Maryland. He married, had two children, and when his wife died, he moved inland to the Mount Willing area of Edgefield County, in what, by that time, was the state of South Carolina.

Jacob Smith built not only the Bonham House or Flat Grove; he also built Wine Hall and the Mount Willing house. He owned a store and a gin on the Mount Willing place, which is just across Richland Creek from the Bonham House.

Sophia Smith married widower James Bonham in 1798, and they lived in the Bonham House until about 1809 when James Bonham bought land on Red Bank Creek and built a home there where he moved his family. James Butler Bonham was born in 1807, so he was born in the Bonham House or Flat Grove.

Flat Grove is on the National Register of Historic Places. It was about to fall in when the grandson of the last owners to live in it gave the house and two acres of land to the historical society. We have raised the money to save it from deterioration and to restore it so that it will last for a long time.

James Butler Bonham and William Barrett Travis were inducted into the South Carolina Hall of Fame in 2001, and I was privileged to give the ten-minute tribute speech to these two heroes. When they lived, their home was a part of Edgefield District and then County, but in 1895, Saluda County was created from this part of what had been Edgefield District and County, so now they are sons of Saluda County (once Edgefield County and District.)

I have done much research on the Bonhams and particularly on the James Bonhams. Three of us have been writing a book about the Mount Willing area and it is in the last editing at this point. It has much about the Bonhams, the Smiths, and the Butlers since they were the first white inhabitants of Mount Willing. The book Where Our Paths Crossed will be three volumes and has a monumental amount of information for anyone interested in this area and the Bonham family. We do have a picture of the statue in Bonham, Texas, in our book.

Bonham House front - photo by Larry Standlee
"The Bonham House is about a mile from where I grew up," writes Ralph Shealy, editor of the Saluda Sentinel. "As a kid, it was just my cousin's 'Aunt Anna's House.' The Bonham cemetery is in the middle of a pasture not far from his house. Bonham's parents are buried there. Bonham's second family home, located on Bonham Road (believe it or not) burned to the ground in the early 60s. This was sad, because one of the windows allegedly had a window pane with 'JBB' etched on it. Our Boy Scout troop collected the bricks from the fireplace of the house, and under the supervision of a master brick mason, we built the entrance to Travis Park Cemetery, the town's cemetery, located on Travis Avenue, believe it or not! Once again, Travis and Bonham came together, I guess you can say!"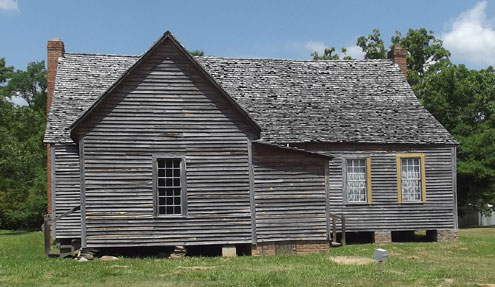 Bonham House back - photo by Larry Standlee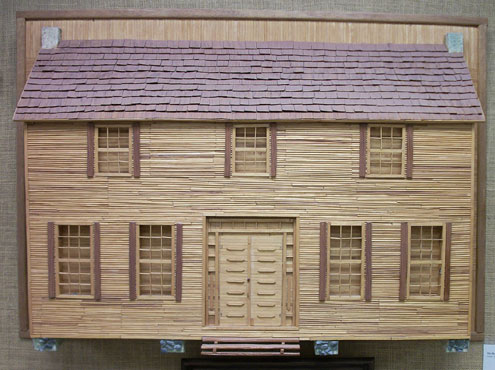 Bonham House model in Saluda County Museum - photo by Larry Standlee
Travis & Bonham memorial on the courthouse square in Saluda. photo by Larry Standlee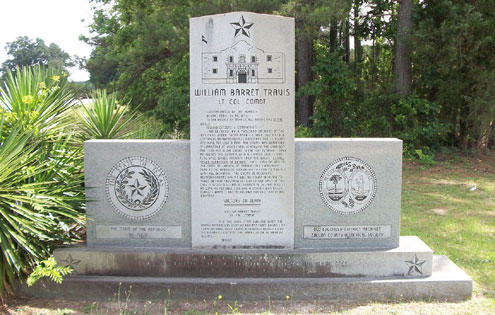 Travis Memorial located southwest of the City of Saluda. photo by Larry Standlee