Entertainment
Voices of the past: The history of Bonham as told in the Bonhi Weekly
Nov 22, 2017
Bonham -- They didn't grade this test on a curve.
Back in 1928, the University of Texas gave its 1,200 incoming freshmen an English exam designed to divide the class into sections based on aptitude. Of the 1,200 first-year students, only 27 received a grade of 90 or above. No one should be surprised to know that Austin High ranked first in Texas with five graduates deserving of an "A." But would you believe Bonham High School tied Dallas High for second place?
Bonham and Dallas each contributed three students that scored above 90 on the English exam. The highest grade out of all 1,200 UT students was a 98. Bonham's Ruth Leslie was only one point off the pace with a 97. Classmates Minnie Lee Spies and Joe Lair earned scores of 93 and 90, respectively. This impressive command of the English language, no doubt, placed smiles on proud parents' faces back in Fannin County. But if you really want to see these kids shine, read some of their old school newspapers.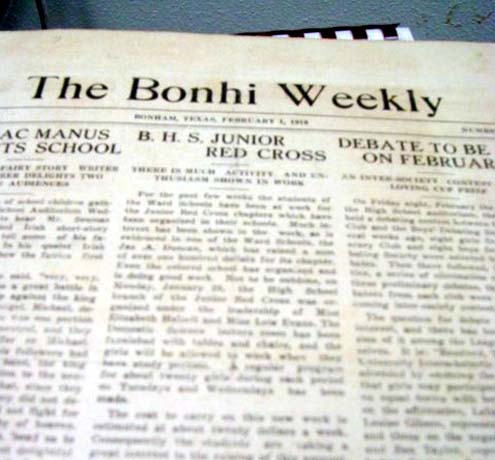 Old copies of the Bonhi Weekly going back to 1918 are brittle and yellowed with age now, but they have been safely stored away by a librarian that appreciates the history those crumbling pages represent.
"I'm not from Bonham originally," retired Bonham High School librarian Glenda Meador said, "but I know these are special."
They were good, this high school newspaper staff that put together the Bonhi Weekly in 1918. Very good. And some of the advertisements are just as entertaining as the gifted writing. There are familiar names such as Smith – Moore – Williams hardware store and J.W. Peeler, "the student's friend."
Sid Smith's Grocery advertised that you should shop with him because "you know me." Another grocery store tried an angle that seems out of place in cattle country. "Fresh oysters will help you reduce your meat bill," claimed the good folks at Russell Grocery and they implored interested readers to dial 58 to learn more.
The lead story in one particular Bonhi Weekly issue involved a visit by Irish folklorist Seamas Mac Manus. The setting for this speech was the Bonham High School Auditorium, a large room on the second floor of the old high school building that later became the library.
So, let me turn you over to the Bonhi Weekly staff of 1918….
Mr. Mac Manus, in his quaint Irish brogue, told a large audience at Bonham High School Auditorium how fairy tales came to Ireland.

"Long, long ago," he said, "very, very, very long ago there was a great battle in heaven. Lucifer rose up against the King of heaven, and the archangel, Michael, defended the King. But there was one portion of the angels who were neutral, and they refused to help either Lucifer or Michael. Then, after Michael and his followers had overcome Lucifer and his band, the King of heaven turned his attention to the neutral angels. He told them that, since they did not fight against him, they did not deserve hell; but since they did not fight for him, neither were they worthy of heaven. 'Then,' said the neutral angels, 'send us to the most beautiful place on all earth. Send us to Ireland.' And some fell in the sea and became mermaids; but most of them fell upon the land and became fairies."

For the remainder of the afternoon, Mr. Mac Manus entertained the children with other fairy stories, entitled "The Three Tasks" and "Donald O'Connel."
Ever heard of a "Tin Henry?" Well, evidently, a Tin Henry and a freshman girl teamed up on a front page story under the headline "Freshman cripples garage"….
An accident typical of the average freshman happened Monday afternoon. A freshman girl had just learned to run the family Ford; and, desiring to enjoy the lovely afternoon, slipped out in the Tin Henry. Despite many narrow escapes, the car reached the garage in safety. But, when already in the garage, the driver, too highly elated over her success, forgot to put on the brakes. Consequently the Ford proceeded to knock out the far end of the garage. Such a marvelous creator is Henry Ford, however, the car was not even scratched.
And if you think recent years have been tough on the football team, they certainly had their share of bumps and bruises 85 years ago as well. Denison beat Bonham 40-0 that year, but the writer pointed out that eight out of our 11 guys were still seriously handicapped by injuries suffered during a 66-24 loss to Sherman. Evidently enough of the team remained in good enough shape to come within four points of Dallas before falling, 10-6.
You can file the next story under the heading of just another helpful sportswriter…
Bonham didn't have a name for their athletic teams in those days and some of the sportswriters in 1923 felt it was cramping their style…they needed a name they could throw down with gusto! We became the Bonhyenas. Talk about your gusto. A freshman, Robert Rogers came up with the name and he won a season ticket. The story in the Bonhi Weekly read…
Henceforth the Bonham athletic teams will be known as the "Bonhyenas." It came about because of the complaints of the sports writers who have always been forced to speak of a Bonhi team as clumsily as one who must refer to an unnamed baby as "it."
Actually, after being called a hyena, being called "it" is a borderline pleasant experience. The team restaurant bill had a nice ring to it in those days, too. We bought meals for the entire Whitesboro team and it only set us back $7.50. Another receipt showed that 14 lunches at the Gem Café added up to $4.70.
On the other hand, we were really raking it in at the gate. Against Leonard that year, we collected $56.25 at the gate. And by 1925 we had taken a sizeable leap up the predator chain…the Bonhyenas became the Purple Warriors. The board of editors in 1923 consisted of Sue Alice Rogers, Pauline Keeton, Annie Pearl Hayes and Neal Fincher was a reporter.
The high school paper covered "lifestyle" events in the 1920s. One of the 1928 issues described a beautiful wedding ceremony at that year's Fannin County Fair. The blushing bride was Maude Owen of Randolph, while her handsome groom was Walter Ballard of Duplex. Mrs. Claude Leatherwood helped with the details.
The football team lost to McKinney, 6-0, that year with names like Starnes, Dobbs, Parrish, Thompson, Nash, Dulaney, Hodge, Lovelace, Bowling, Boon and Cotton representing on the gridiron.
In 1928, the Bonhi Weekly listed Jeanette Harris as poetry editor. The editor was Ellen Hayes and the assistant editor that year was Desdamona Hale. One of the 1928 Bonhi Weekly articles told of former editor Ruth Leslie winning first place in a nationwide chemistry contest, but the most eye-catching story was written about a game against Cooper that Bonham won 57-0. It seems that Alice Keeton, Bonhi's football sponsor, kicked off for the Warriors. The ball rolled to the Cooper center, who was immediately smothered by Purple tacklers. The writer failed to mention if Mrs. Keeton was in on the tackle.
In 1936, Bonham High School's population jumped by 123 students, pushing the enrollment to 444, a new record.
Meanwhile, you could take a stroll down to the American Theater to watch Will Rogers starring in State Fair, and ladies could purchase fine hats at The Hub for 98 cents. The editor for the school paper that year was Tid Lipscomb, with John Meade and Alvis Beasley handling the sports duties. At their disposal stood 25 eager reporters and one of them brought in this story.
A jinx hit the pep squad with Mary Alice Keeton, Tid Lipscomb, Bess Saunders and Betty Russell out of uniform for the Friday game with strained tonsils. Little Thelma McRae and Mary McLain are also on the injured list as the result of a terrific collision while practicing on a new stunt Monday afternoon. Both girls blame Dick Saunders for their injuries. Mary says Dick yelled "right" when he should have yelled "left" and Thelma declares that he yelled "left" when he should have yelled "right." Dick claims all he said was "forward march."
Enough said.
A couple of the Dear Santa Letters that year were interesting.
Dear Santa Clause

I take a pause

To write you a letter

Bring me some spikes

(They're not for hikes)

And I will feel much better

Signed…Head over heels…Eurita Williams

Dear St. Nick,

Please bring Jean Meade a new supply of boyfriends.

We never had a chance…signed…the other girls