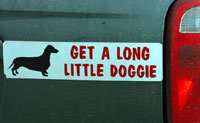 It was hard not to smile at this bumper sticker, but a glance around the parking lot offered ample evidence this was serious business. License plates from Massachusetts, Wisconsin, Iowa Washington, Oregon and several other states revealed competitors from across the nation had made the trek to Ladonia, Texas to try their chances in the National Field Trials of the Dachshund Club of America.

Some modern day Dachshund owners joke that you don't train this breed, they train you. And, while a lot of eyebrows go up at the mention of Dachshunds and field trials in the same sentence, you don't have to look any farther than the name of this popular breed to realize this dog was born to go face-to-face with a badger in a dark tunnel. That requires a sharp nose, short legs, an elongated body and a heart that defies description.

The literal translation of the German word Dachshund means "badger dog." The standard size Dachshund was bred to find badgers in their element - in underground burrows. The miniature Dachshund (under 11 pounds) was developed to hunt rabbits. Both sizes competed this past weekend at the Lone Star Dachshund Conservancy in southeast Fannin County.

Actually, a wide variety of Dachshunds were entered into the competition that began Thursday and continued through Sunday. In addition to the standard and miniature sizes, there were short-haired, wire-haired and long-haired Dachshunds in colors that ranged from shades of brown to black and tan and even black and white.

While conformation is important, these owners place just as much importance in the dog's hunting prowess as its appearance.

"We want it all," explained Judy Gallamore and she should know. Judy and Mack Gallamore of Anna, Texas own the No. 1 ranked Dachshund Club of America Field Trial dog, Ana Maria.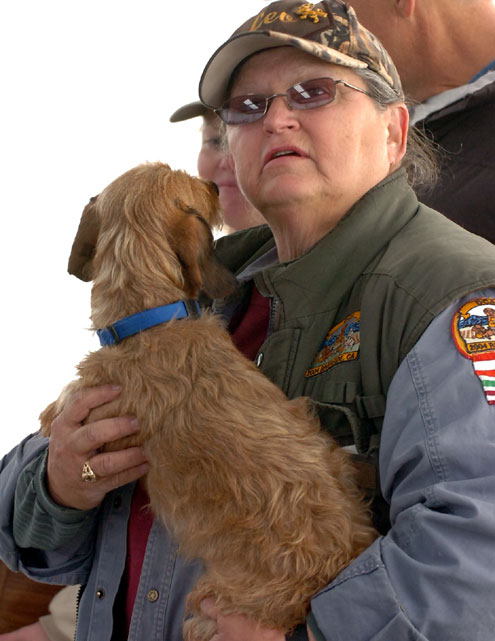 Judy Gallamore holds Ana Maria
To the untrained eye, many of these breeders seem to have moderated the extremely short legs and excessive body length sought after in show rings in their pursuit of high-performance hunting dogs.
But journalist H. L. Menchen's noted observation that Dachshunds are a "half-dog high and a dog-and-a-half long" is still fairly accurate. Another observation that is hard to miss is the obvious love these owners feel for their mighty little hunters. The attachment is often stronger than death itself and memorials of man's best friend abound at Lone Star Dachshund Conservancy. For example, the field trial awards were handed out in an all-weather pavilion known as The Oscar Oasis, in honor of FC Longtime's Oscar Von Zimmer JE.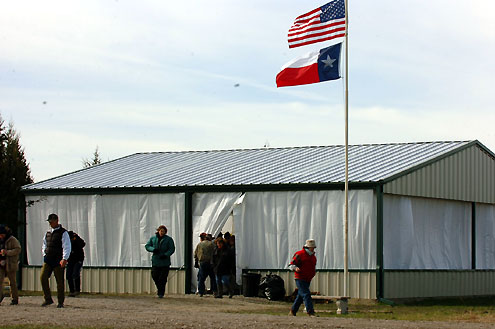 "Planting a rose bush somewhere just wouldn't do," Oscar's former owner says quietly.
Dachshunds at the National Field Trials were judged in brace on rabbit and earthdog competitions.
For the "Brace on Rabbit" competition, the conservancy has 15 acres of well-stocked, prime rabbit habitat surrounded by a security fence to discourage predators. A brace, which means two dogs, is determined by luck of the draw. During field trials, a group of competitors follow the judges and the designated brace until a rabbit is flushed. The judges yell "tally ho" and the brace takes chase. The dogs are then judged by how well they follow the scent of the vanishing hare.
Earthdog competitions are just as interesting. A man-made underground maze is prepared, with the prey's scent at one opening, dead-end offshoots that are scented, but have no prey, and finally a tunnel that leads to caged, and therefore protected, mice.
If a dog dives into an entrance without scent, he flunks before he even starts. The logic is that a well-trained hunting dog will see no point in entering a tunnel where scent isn't present. Owners are also expected to be able to give a command and call the dog out of the tunnel. The best dogs will enter the 32-foot tunnel at the correct entrance, exit the tunnel if his master beckons, check out the scented dead ends and then continue the search until arriving at the caged prey.
Many of the Dachshund owners competing in the Dachshund Club of America Field Trials singled out Ladonia businessman Rick Barrett for making their stay in North Texas so enjoyable. Barrett owns the Ladonia Guesthouse, a spacious Victorian home he is restoring, and the Log Cabin Motel, a sprawling log cabin that quickly fills up when a competition this size comes to town.
Some Dachshund owners traveled to North Texas in RVs and stayed at an RV park in Wolfe City that only charged $4 per night, while others reserved hotel rooms in Commerce and Greenville.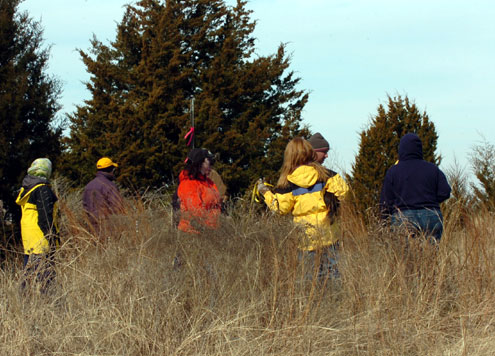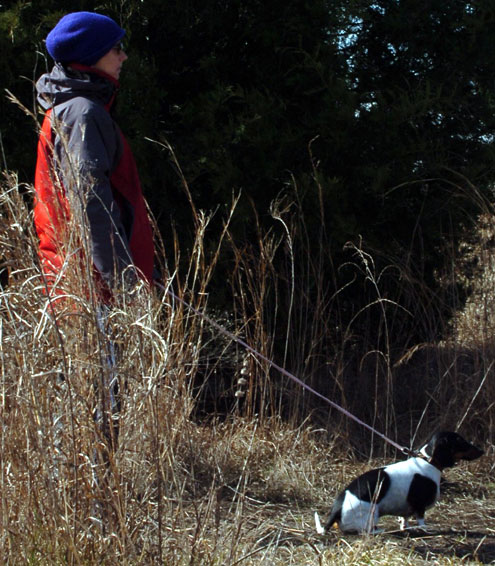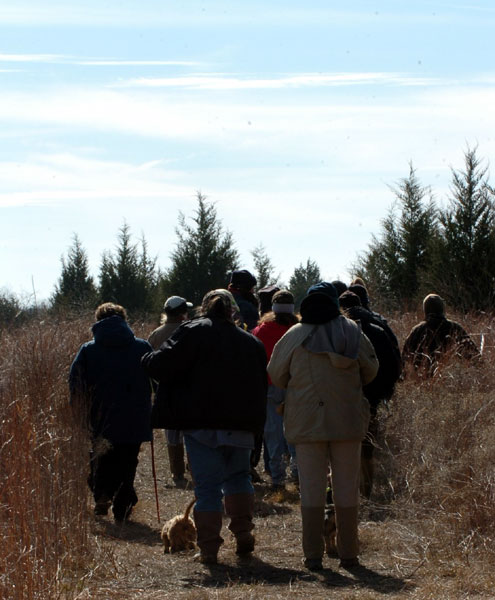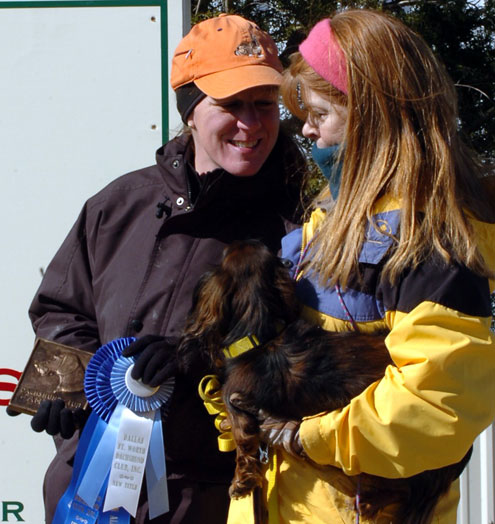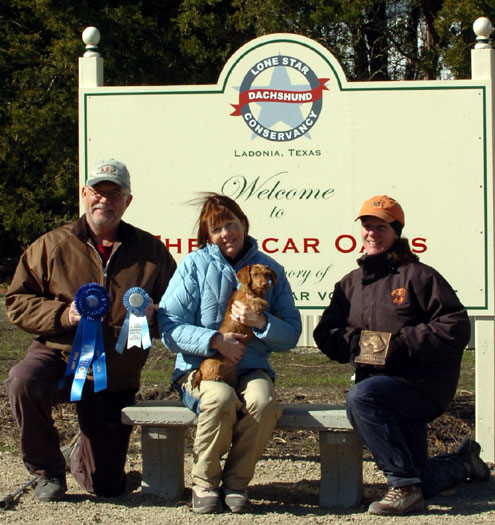 Judges Larry Gohlke of Wisconsin and Alice Moyer of Pennsylvania

pose with Oregon native Julie Couch and her Open All-Age Bitch.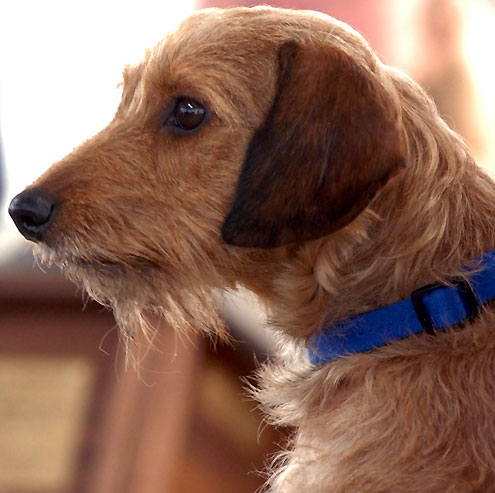 Dachshund Club of America's No. 1 field trial dog, Ana Maria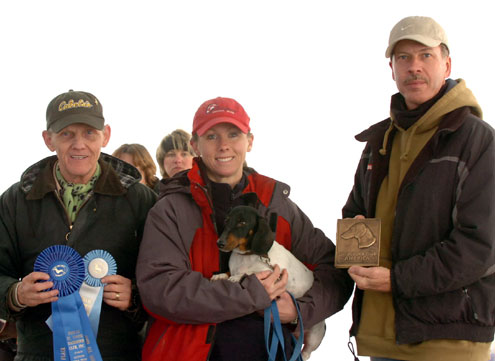 Another happy winner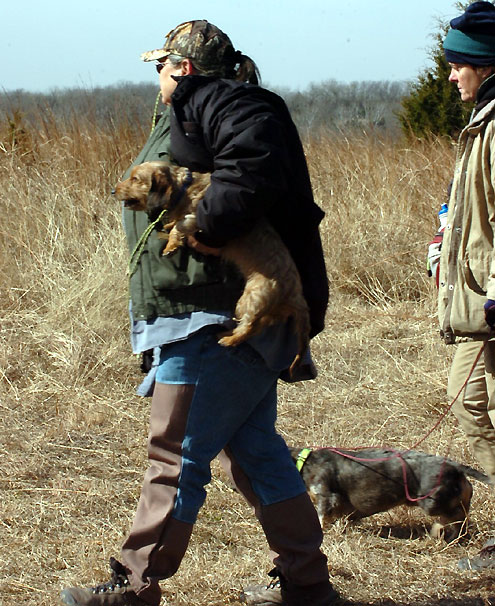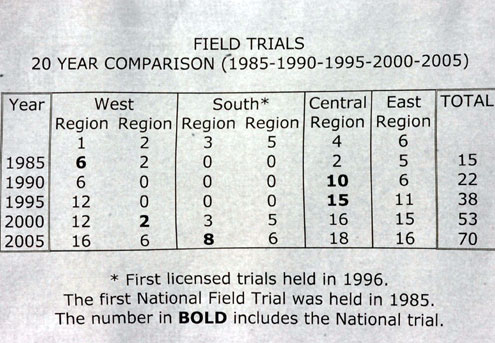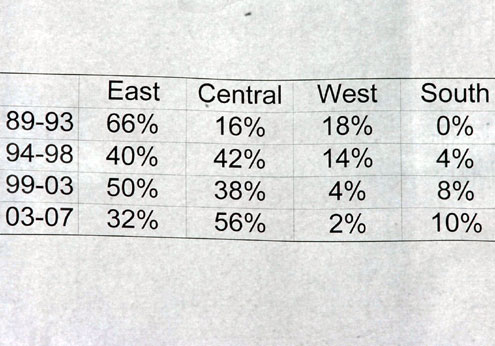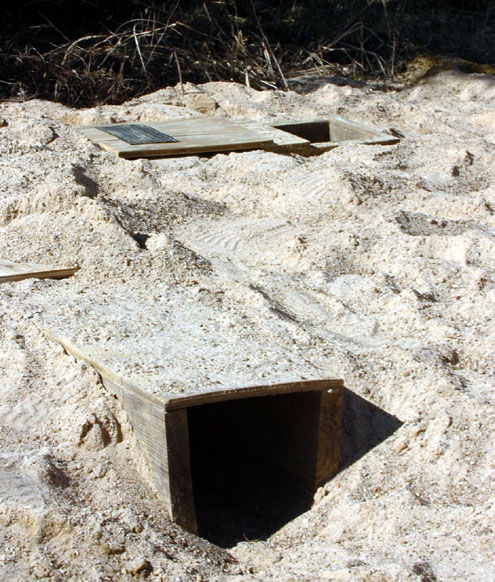 Earthdog beginner tunnels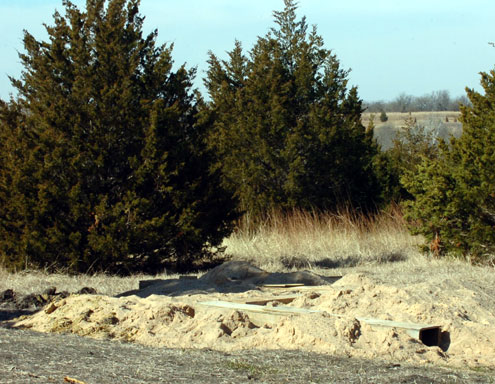 32-foot earthdog tunnels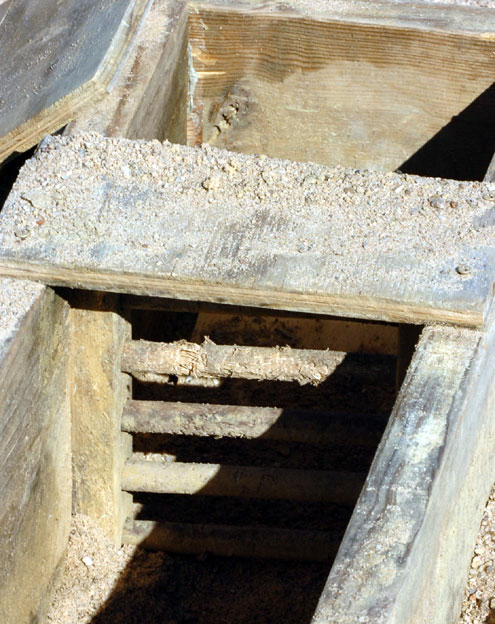 The best earthdogs will arrive at this cage which will have live prey protected behind the bars.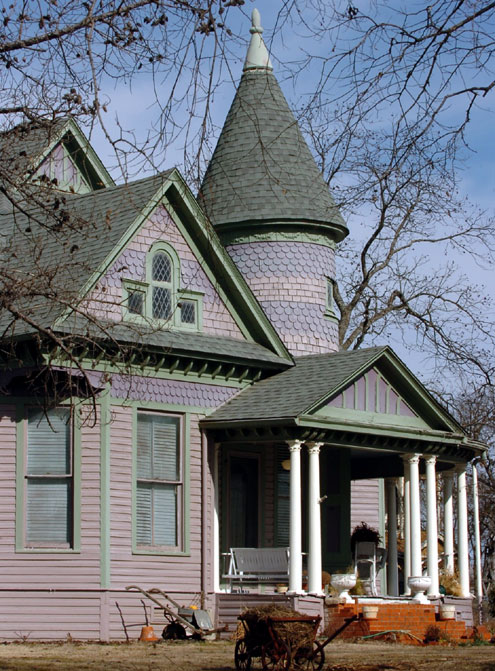 Ladonia Guest House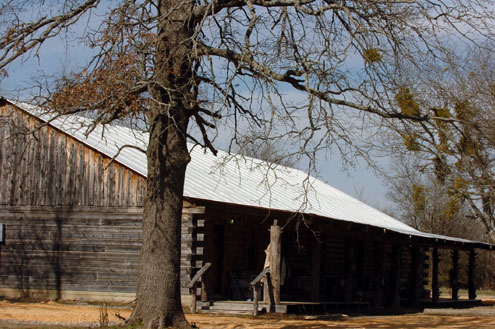 Log Cabin Motel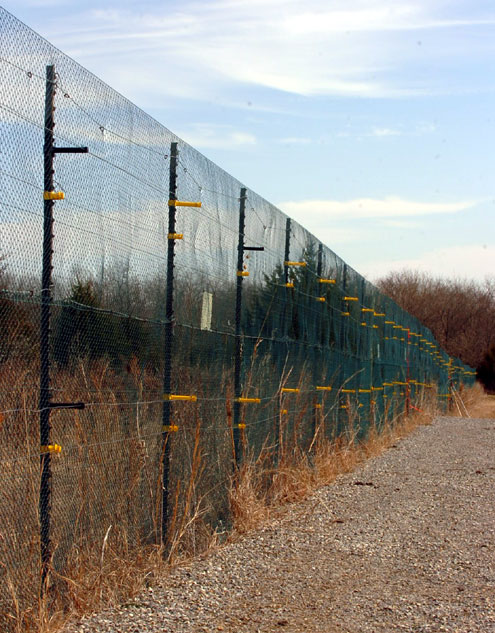 Fence that encloses the 15-acre field trial area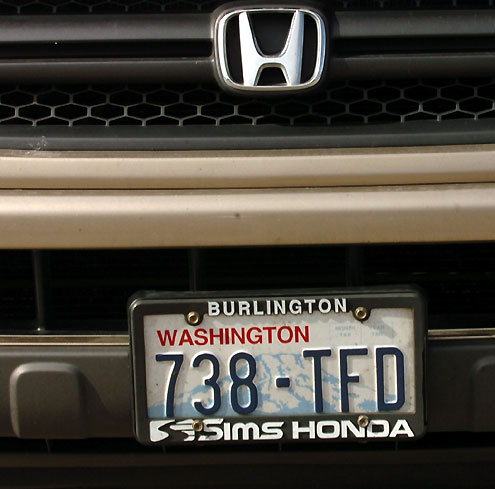 One of many out-of-state license plates
The Oscar Oasis -- a rose bush just wouldn't do...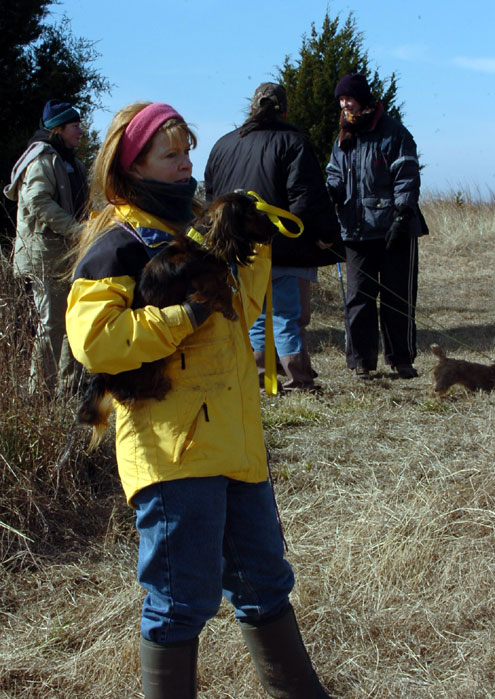 A pensive moment while remembering a lost friend