Every good home begins with a solid foundation and that is certainly true of every home Fannin County Habitat for Humanity builds. In fact, when you step inside the front door of the four Habitat homes in Fannin County, you are literally standing on the word of God because a Bible is placed in the foundation slab.
Habitat for Humanity takes great pride in being a Christian housing ministry dedicated to providing affordable housing in their communities. Friends and supporters of Fannin County Habitat for Humanity gathered in Leonard Sunday, April 17, 2011, to celebrate the completion of the fourth Habitat project in Fannin County, the new Vega family home.
Fannin County Habitat president Wilson Fryar welcomed guests that had come to celebrate this special day.
"We stepped out in faith that the Lord would provide," Fryar stated, "and the Lord has provided."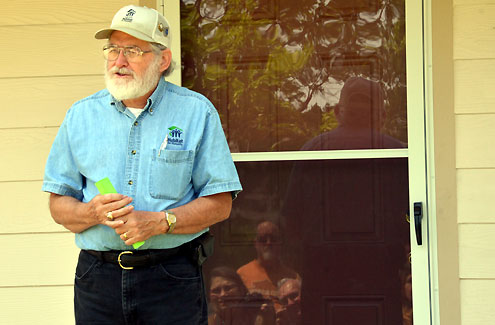 Fannin County Habitat for Humanity president Wilson Fryar
Leonard Municipal Judge Jim McIntire formally blessed the home.
Judge McIntire also had a particular message to the new occupants at 109 South Parmele in Leonard: Gilberto, Stacie, Matthew, Andrew and Keleigh Vega.
"To the Vega family I would say, this is the house that love built," remarked Judge McIntire. "I would remind you to always keep God in the center, not only in your lives, but also in this house."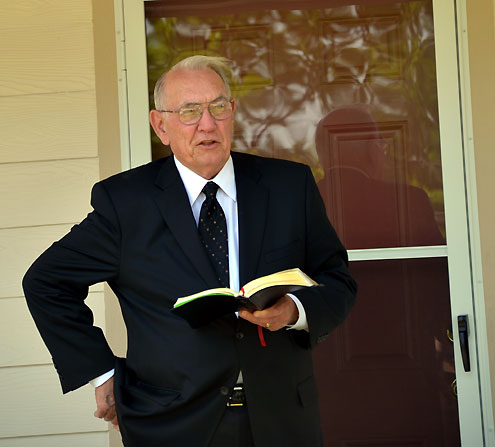 Leonard Municipal Judge Jim McIntire
Stacie Vega invited the crowd into her family's new home.
"We couldn't have had this house without all of y'all and we couldn't have done this without Habitat," she said. "I would like to welcome you into my new home."
The very heart of Fannin County Habitat for Humanity is a dedicated group of volunteers: House project manager Jay Stephens, Habitat president Wilson Fryar, Chuck Noe, Ron Roby, Norman Young, Patsy Swindell, Sally Simpson, Barbara Parks, David McClure, Chuck Shewry, Roy Riales, Bert Simpson, Sally Gregory, and Larry and Barbara Wilson.
Fannin County Habitat for Humanity volunteers
Corporate sponsors are also an important part of every Habitat project. Whirlpool donates appliances. Home Depot in Sherman played a very important role in completing this home by donating all fixtures, microwave and dishwasher, plus the store manager came out to the site and helped the crew set out trees donated by Kennedy Arbor. Hope Plantation supplied the turf and Stephens Sand & Gravel rocked the driveway. Southwest Christian Church in Fort Worth jump-started the entire project by donating the walls. Scoutmaster Scott Blackerby and his Boy Scout troop came to the site three times to move dirt.
To date, Fannin County Habitat for Humanity has completed homes in Bonham, the Nunnelee Community, Honey Grove and now Leonard. Each project certainly has its challenges, but this group of volunteers and Habitat sponsors always find a way to complete the job.
If you are looking for a way to improve your community and work on rewarding projects, please contact Fannin County Habitat for Humanity at 903-640-1439.
Local sponsors
A+ Insulation
Aladdin Exterminators
Bartoo Ready Mix
Cole Title Company
First National Bank of Trenton - Leonard
First Presbyterian Church - Bonham
Home Depot
Hope Plantation urf
Kennedy Arbor Trees
Leonard Pharmacy
McClure Electric
Miller Sand & Gravel
Oleo Acres
Quality Plumbing
Rick Weaver Concrete
Southwest Christian Church of Fort Worth
Stephens Builder
Stephens Sand & Gravel
Tim Petty Roofing Company
Donors
Richard & Sandra Anderson
Jackie Bauman
McKenzie United Methodist Church
Solid Ground Realtors
RKP Enterprises
First United Methodist Church - Whitewright
Atmos Energy
Bob Furman
Fannin County jurors
and all other faithful donors
HFHI sponsors
Hunter-Douglas
Mobile Mini
Square D
Valspar Paint
Whirlpool
Yale Locks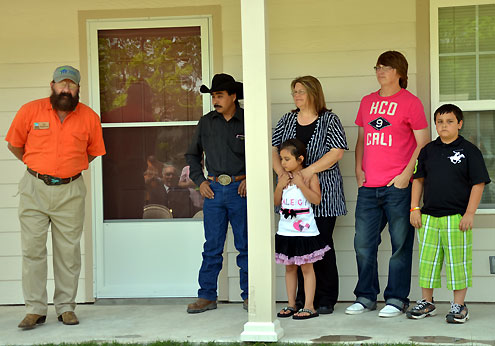 House project leader Jay Stephens (left) and the Vega family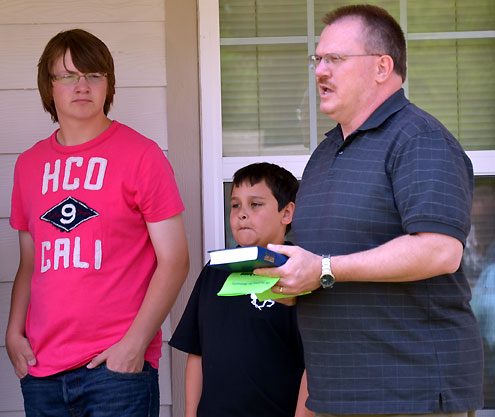 Tom Bower (right) of Southwest Christian Church of Fort Worth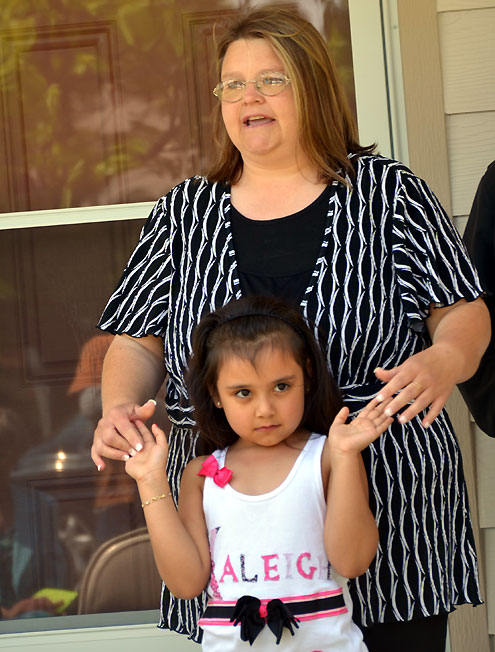 Stacie Vega and her daughter, Keleigh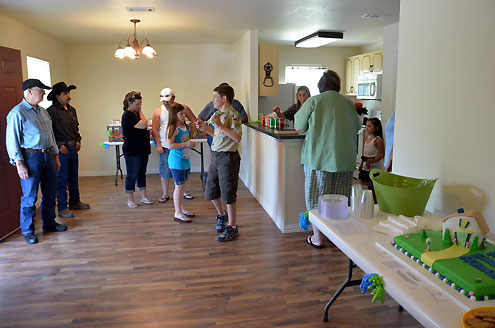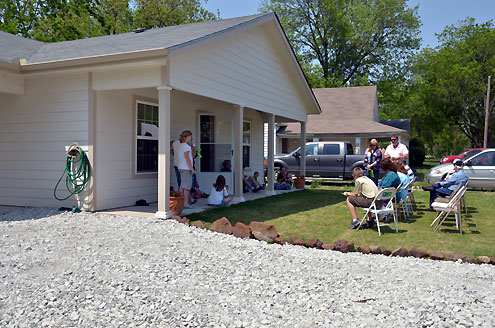 Driveway completed by Stephens Sand & Gravel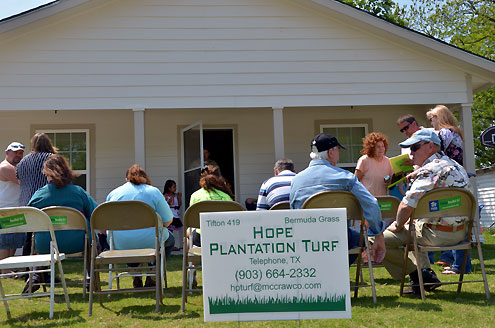 Turf donated by Hope Plantation Turf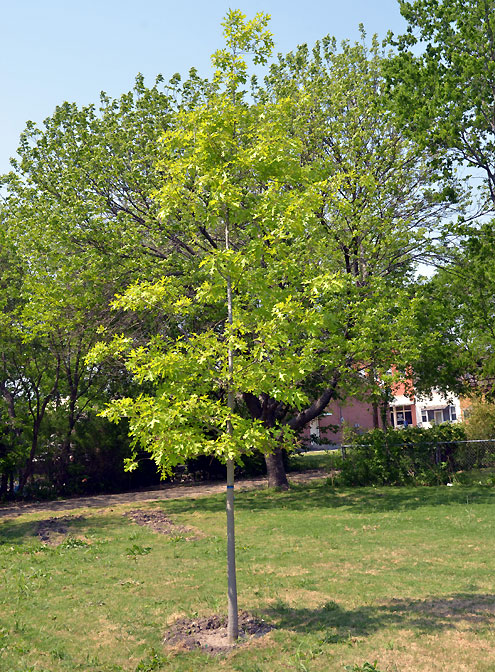 Beautiful young oak tree donated by Kennedy Arbor Trees