The Bonham 5th grade youth football team travels to Gunter for the Texoma Youth Football League (TYFL) Championships this weekend (Nov. 5) in hopes of bringing home a Super Bowl trophy.
The team qualified with a 7-2 season and then followed up with a playoff victory over the Celina 5th grade team. This is the same Celina 5th grade that had gone undefeated in the 4 previous years while winning the Super Bowl each of those years.
This will also be the first year that any Bonham team in grades 3 thru 6 have made it to the Super Bowl.
Bonham will be facing a tough undefeated Sanger team. Earlier this year in district play Bonham was the only team to score against Sanger.
The Bonham 5th graders began practice the first week of August when the scorching heat often reached 105F. The rapid ascent of this team developed with decisive victories over both the Sherman 5th grade team and Sherman 5th/6th grade along with wins over Anna 5th/ 6th grade, Van Alstyne, Pottsboro and Celina. The coaching staff is very proud of the hard work these boys have put in to reach this point but is especially proud of the character and good sportsmanship they have exhibited while representing the city of Bonham.
The Texoma Youth Football League is comprised of over 800 student/athletes and 8 participating cities. The league is made up of boys ages 5 to 12 from Anna, Bonham, Celina, Gunter, Sanger, Sherman, Tom Bean and Van Alstyne. TYFL was founded in 2003 and is deemed one of the most competitive youth football leagues in North Texas.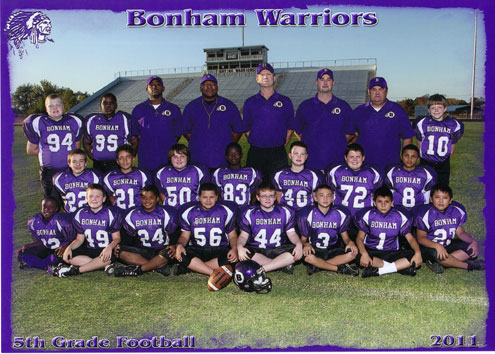 Kickoff is at 3:00 p.m. on Saturday.
The 2011 Bonham 5th grade roster includes:
Nick Ariela Safety
Gaige Cravin - Wide receiver
Oscar DelaRosa Defensive Guard
Ronnie Fuller Outside linebacker
JQ Fuller Safety
Drew Johnson Nose Guard
Daylon Kinkade Defensive Tackle
Matthew Mitchell - Center
Kenny Nguyen Left Tackle
Dylan Porter Quarterback
Sam Porter - Left Guard
Tyler Rodriguez Wide receiver
Noah Shellman Tailback
Chris Stevens - Right Guard
Hayden Stevenson Wingback
Josh Ukpe Fullback
Blake Wells - Right Tackle
Daniel Dowling Left Tackle
The team was cheered to victory at each game by the following cheerleaders: Abegail Smith, Annahlee Smith, Averi Reeves, Bailee Nichols, Cynthia De La Garza, Grace Wilson, Journi Shellman, Karis Stevenson and Sydney Johnson.
The coaching staff includes: Joe Shellman- head coach, Marc Mitchell- defensive coordinator, Ken Porter- offensive coordinator, and assistant coaches- Chris Stevenson, Mike Kinkade and Mike Porter