McKinney, Texas -- Laura Moore Fine Art Studios in downtown McKinney, Texas, is pleased to present Brian J. Magnuson's most recent work, "Cowboys of the Grand Canyon, The Winter Series." This exhibition of black and white images beautifully captures the rugged Arizona cowboy working the mules down the steep canyon descent in the heart of winter during a snowstorm.
Magnuson again presents stunning classical hand printed darkroom images that take the viewer behind the scenes for a detailed look at the life of a Grand Canyon cowboy during the canyon's wintery weather. The viewer will be given a front row seat of the dramatic views of the complexity of the canyon from the snow-covered rim to the warmer paths below.

Magnuson, of McKinney, Texas, has made many trips down the canyon over an eight-year span to document the cowboys. He has held many one-man shows across America as well as been included in several group showings. His work has been featured on the Good Morning Oklahoma television program, the Dallas Morning News and other publications.
"Cowboys of the Grand Canyon, The Winter Series" opening night is Saturday, November 12, 7-10pm. On display through December 7 at Laura Moore Fine Art Studios, 107 S Tennessee.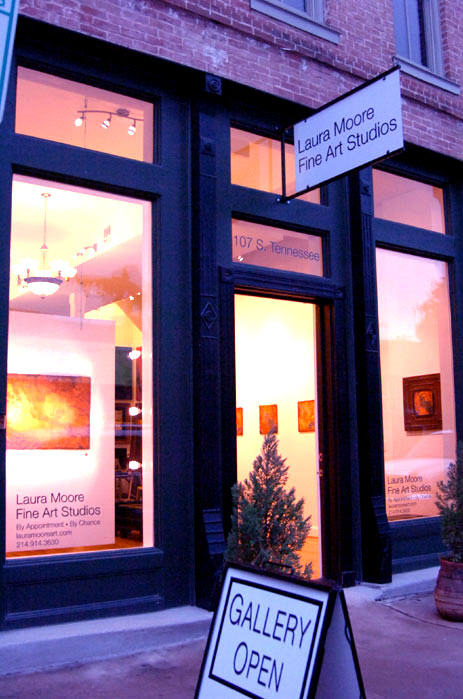 Gallery Hours are Mon-Sat 1-5pm, 2nd Sat 1-10pm or by appointment. Free admission. 214.914.3630. www.lauramooreart.com