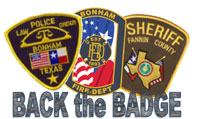 Bonham -- First responders who serve, protect and rescue local citizens day in and day out do so without fanfare or expectation of any reward. Though many days are thankfully quiet and without calamity, the nature of the job demands a willingness to rush into dangerous situations - situations that most people run away from. The horrific events of 9/11 brought America together and made everyone aware of the importance of law enforcement and fire/rescue agencies. The men and women of those agencies who gave their lives that day echo what happens every day all over the country. Whether coping with automobile wrecks, fire, crime or medical emergencies, our first responders deserve our thanks.

The Creative Arts Center wishes to honor local first responders and is reviving the historic tradition of the "Fireman's Ball." On September 9, at the Multipurpose Complex history comes back to life with the Back the Badges Ball. This event will benefit the Bonham Police Department, Bonham Fire and Rescue and EMS, and the Fannin County Sheriff's Department.

The event will begin at 6:30 p.m. and be catered by Feast on This. Dinner and a short live auction will be followed by music organized by firefighter Jason Dudley. Tickets will be available at the Creative Arts Center and at the Chamber of Commerce office and be purchased online at www.bonhamchamber.com. A table of eight is $375 and individual tickets are $35 - the price includes dinner and the concert (BYOB). The majority of the proceeds (over 75%) will go toward the three entities of first responders.

For more information, to purchase tickets or to sponsor the event, contact the Creative Arts Center at 903-640-2196.