Hello Fannin County,
I hope this message finds you well. My name is Jeff Whatley. I'm the new youth and family minister at the Northside Church of Christ. I began serving alongside the brethren at Northside on January 1, 2018. I cannot be more excited and blessed to join such a loving, welcoming and helpful congregation.
My wife, Carrie, and I have been married 19 years and our son, Davin, is 15 years old. For the past five years we have served as house parents at the Southern Christian Children's Home in Morrilton, Arkansas. During that time, we were able to care for 42 boys ranging from 5-18 years old. The difficult circumstances and trauma these children were often able to overcome was overwhelming evidence of the resilience and amazing strength GOD places in each one of us, "If We Will to Will."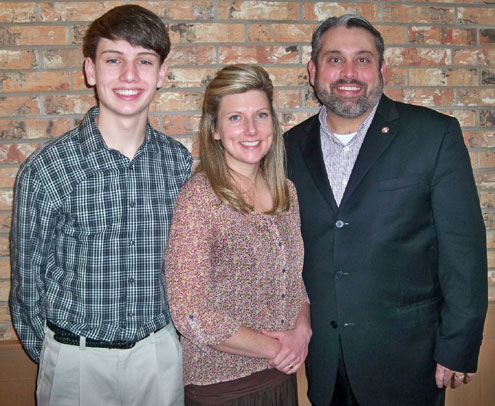 Life can be extremely challenging and the choices we make can have dire consequences. But with the LORD and the support of other Christians, great help and healing can be attained and maintained. The wounds of our past often resurface through many factors we face on a regular basis. When we are under stress we regress. Is there anyone who does not feel some stress in this fast-paced society and culture we live in today? Our adversary the devil prowls around like a roaring lion, seeking someone to devour, (1 Peter 5:8). He's alive and active and working in 3-D, which is Doubt, Discouragement and Distraction. His goal is to steal and kill and destroy. But the LORD has come that we may have life, and that we may have it more abundantly (John 10:10).
Therefore, it is our mission to take the tools, training, and trials we have experienced and teach others that with the LORD, anyone can turn "Troubles into Triumphs!" It is my prayer that you have taken the time to read this brief message and will choose to visit us. You will see for yourself our commitment to the LORD and each other. The care, compassion and concern for all that need help and desire to learn more of our LORD's love and will, is evident in all that we do. Hope to personally meet you and your family soon.
Peace and Blessings,
Jeff Whatley
Northside church of Christ
2020 N. Center St.
Bonham, TX 75418
Contact: #903-583-3484 or questionstonorthside@gmail.com
Also visit us on the web at: www.thenorthsidechurch.com
Sunday Morning Worship: 10:30 a.m. & Sunday Evening Worship: 6:00 p.m.
Bible Study: Sunday 9:30 a.m. / Wednesday: 7:00 p.m.; Classes for ALL ages!